Did you know that motorcycle leather jackets became popular in the 1950s after being worn by Marlon Brando and James Dean? Leather jackets are timelessly iconic in fashion. You can put one on with almost any outfit, and it surely will up your entire outfit effortlessly.
It is a good idea to keep a good quality one in your closet. But despite being naturally durable and dust-resistant, leather needs the care to stay in good quality. And with the best leather jacket conditioner, you can make your beloved jacket last well over a few years.
To help you, in this article, we are going to present you with the top leather jacket cleaners & conditioners. Stay tuned for more!
Our Top 3 Picks:
Why Use Leather Conditioner?
Leather is a material with tough maintenance. Sure, with proper care, leather lasts a long time, but the care is needed. Leather can be very easily affected and ruined by extreme weather conditions. Such conditions include humidity over 60 percent, burning hot substances, freezing cold ice, etc.
If a leather jacket is exposed to extreme conditions like this, it will likely lose its inner moisture. Loss of moisture results in tears and cracks on leather, which ruins its outlook.
Good quality leather is also something that does not come cheap. You would not want to have your expensive leather jacket get ruined prematurely, would you? That is exactly why you need the best leather jacket conditioner for your precious piece of apparel.
With the proper maintenance, your jacket will stay looking as good as the day you purchased it.
The Benefits of Using Leather Jacket Conditioner
The benefits of using a leather conditioner for jackets are many. Leather is a naturally smooth and soft material. With time, these properties of leather may deteriorate. But if you do not skip the leather conditioner, your jacket will stay soft and smooth for a long period.
Also, a leather conditioner contains chemicals to clean the leather. We all know that leather jackets can be dirt magnets- it does not take long for them to be covered in grime. With regular use of leather conditioners, you can remove any built-up dirt and grimes, keeping your jacket clean and nice.
The leather conditioner preserves not only the leather but also strengthens it. It will preserve the material in its best quality for a long time and also reinforce it to make it last even longer. Some chemicals of the conditioner can bind to the material, making it stronger and durable.
How Often Should You Cleaning & Conditioning Leather Jackets?
There is no clear-cut answer to this, as the answer varies depending on the type of conditioner you are using and how regularly you use your jacket. If the jacket is your signature look and something you cannot go without, chances are it is worn almost daily.
Or, some people like to save their jackets for specific occasions. They end up wearing their jacket only a few times a month. In these two scenarios, the first jacket will obviously need more frequent conditioning, as frequent uses will wear out the conditioner faster.
If the motorcycle leather jacket conditioner you are using is water-resistant, then it will last longer on your jacket, provided that you not get completely soaked in water. Conditioners that are not water-resistant will wear out quicker, requiring more frequent applications.
Also, if the jacket is exposed to direct sunlight for extended hours, it needs more frequent conditioning.
Generally, you should use a leather conditioner every 6 months.
10 Best Leather Jacket Conditioners
After discussing a few informational parts, we have finally arrived at the main event. Scroll down to see our reviews of the top 10 leather coat conditioners.
1. Leather Honey Leather Conditioner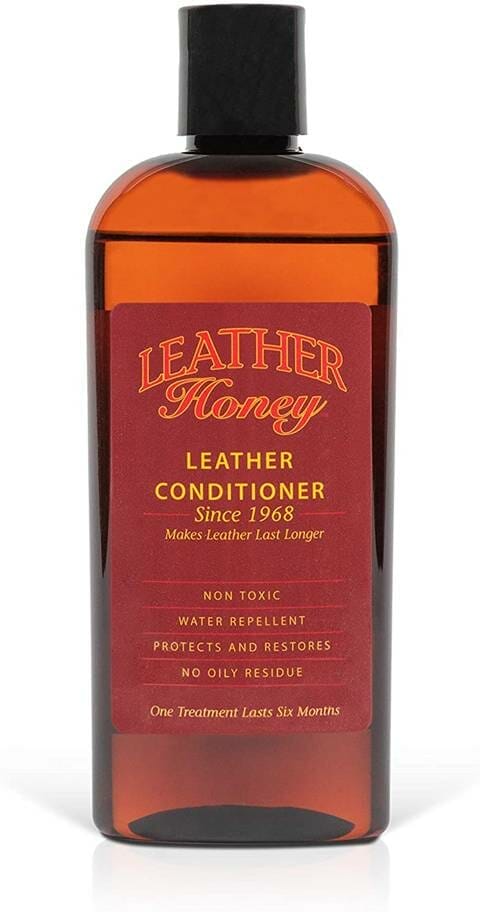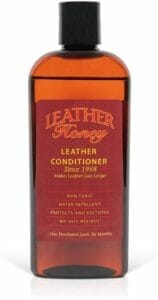 Leather Honey is a brand that is bound to pop up whenever you mention leather conditioners. This is a classic & well-loved brand for leather conditioners. And Leather Honey has been pleasing the market since 1968.
This conditioner penetrates deep into the layers of leather, protecting new leather as well as rejuvenating old ones. It is non-toxic and does not contain any solvents, silicone, or animal products.
A bottle of this would last a long time, as only a quarter-sized drop does the trick. In fact, a little of this product goes a long way.
If you are choosy about leather conditioners, then you will be delighted to learn that Leather Honey is non-sticky and odorless. So, there will be no fuss!
This product is also very versatile. Besides jackets, it is suitable for any leather-made item you can think of.
All things considered, it wouldn't be wrong to call this the best leather jacket conditioner.
2. Chemical Guys Leather Cleaner and Conditioner Care Kit
Chemical Guys is a California-based brand dedicated to making high-quality chemicals for car care.
Leather seats from cars go under a lot of abuse and need something that can protect them well. So, you know that this cleaner and conditioner kit is the real deal.
Despite the company's focus on car care, this product is actually very well-suited for leather coat conditioning. It is a versatile product that works with car seats, leather jackets, boots, sofas, and more.
For the most efficient cleaning & preserving, this cleaner is PH balanced. It will penetrate the pores of the material and suspend oils and dirt easily.
You do not need to spend a lot of time cleaning, either. It is quick, effortless, and fun.
Lastly, you get amazing value from this set, as a little bit goes a long way.
3. KevianClean Leather Cleaner & Conditioner
At our 3rd spot, we have another car-care brand that ironically makes one of the best leather jacket conditioners in the market. KevianClean specializes in making cleaners of various types, so if you have a particularly dirty leather jacket to clean and condition, look no further!
This product is even more versatile than the previous one. It is an all-in-one item that works on both leather and vinyl. It can be used to wipe away dirt, oil, grime, and fingerprints.
If you use it on genuine leather jackets, this product will extend its life by protecting it from weather conditions. You can also use it on PU, vinyl, patent, bonded, and other types of faux leather.
Did your pen accidentally spill ink on your jacket? Or, do you have toddlers who love to draw on everything? That's not a worry anymore because this conditioner can remove the blue jean dye and ballpoint ink.
4. MiracleWipes for Leather Cleaning & Conditioning
We have another US-based brand that specializes in cleaning, which I'm sure you can guess from the name. This product is in a wipe from, which makes it different from the others.
Inside of the box, you will be getting 30 cleaning wipes for leather. So, you are limited to only 30 uses if you use one for each cleaning. That is not bad, but liquid products provide more use.
This product restores lost moisture in leather, which prevents fades and cracks. Loss of moisture is the main reason leather goes bad, so adding moisture is a must for any conditioners.
As the best conditioner for leather, this product is infused with premium oils that help protect the leather from UV rays. So, if you are out in the sun a lot, this would be a great choice to prevent sun damages.
5. Adam's Leather Cleaner & Conditioner Kit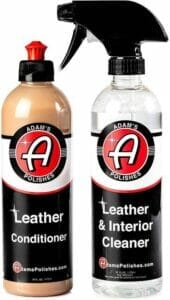 This leather jacket care kit comes from a brand that is driven to achieve perfection in every product they make. Adam's is a fairly new company that has been in the industry for 20+ years. With excellence in everything they make, this brand might just be the next industry leader.
The cleaner of this kit easily removes any contaminants without harming the leather itself. All the oils and grimes built up from the oils will be removed, and you will be left with a jacket that looks the same as it did when you purchased it.
These products are PH neutral. The cleaner and the conditioner work together to thoroughly clean your leather jacket and then restore moisture to it, preserving it.
Also, you will get UV ray protection from the conditioner. So, not only do you get deep conditioning but also you will have an extra layer of UV protection.
6. Leather Cleaner for Jackets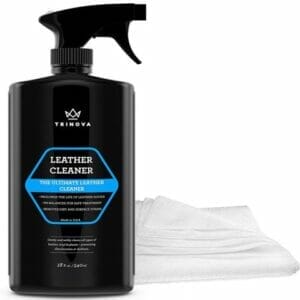 On our 6th spot, we have yet another best leather jacket conditioner, and this one is from TriNova. TriNova is a brand of the company Gold Eagle. This line is dedicated to making specialized cleaning products for specific purposes.
First off, this product is compatible with all kinds of leathers, not just natural. Be it vinyl, durablend, compound, faux, or saffiano – this product will clean all of these without any damage.
It is a liquid cleaner, so it comes in a spray bottle. So, you can guess that it is easy to apply. You will be able to cover a large surface area with ease.
This cleaner can remove stains, dirt, grime, and debris effectively. On top of that, it does not contain any harsh chemicals.
You can trust this product blindly because it has been formulated by leather experts. If it's good enough for experts, then it is definitely good enough for us, too!
7. Leather Afterlife Leather Conditioner
For incredible leather treatment, a product from Leather Afterlife is more than enough. The company specializes in safekeeping the pristine condition of leather accessories, and this product is an exemplification of their brand promise.
Coming in a cool-looking vintage bottle, the conditioner can take care of your furniture, car seats, saddles, jackets, boots, purses, etc. You can also use this product to protect your car's interior.
Let's talk about how well this one works. The conditioner not only secures your accessories' condition but also brings the accessories that have lost glaze back to life. The unit leaves a subtle texture that feels really comfortable on the hand.
The USA-made product considers the environmental and safety aspect as well since it is made of non-toxic ingredients that you can use without having to worry about the kids or the pets. Also, the quantity that it comes in is quite convenient.
8. Bickmore Bick 5 Leather Cleaner & Conditioner Spray
Bickmore is a brand that has been making products for the higher quality care of leather since 1882. With over 130 years of experience under their belt, it is no surprise that this established leather care leader makes the best leather cleaner and conditioner.
This product is a leather jacket spray, which makes the application of the conditioner easier. It can be used on all household and apparel leather, so it is versatile.
Bickmore has perfect their original formula by testing it time and time again, the result of which is a thick & rich formula that will not leave a sticky residue.
Often, leather conditioners wear off too early, needing frequent reapplications. That will not be the case with this one. Once you spray it on and rub the product in, it will stay there.
Also, you can control the amount of product you want to spray with the adjustable spray cap.
9. Conditioner and Cleaner
Much like the previous brand, Lexol is another one that is dedicated to leather care. Their products are made to clean, maintain, and restore leather products from the harsh damages of heat, sun, and rain.
In this kit, you will get one coat cleaner, a deep conditioner, and two applicator sponges. It is geared more towards car seats, but you can make do with it for jackets.
The cleaner is designed to lift oils and dirt, which you can wipe away. And the conditioner has fine oil droplets to restore the flexibility of your jacket and nourish it.
These oil droplets also protect the leather against future uses without leaving a greasy oil residue behind.
Although, leather jackets usually do not require a separate clear and conditioner combo kit. Such kits are more suitable for car seats because they get dirtier than jackets.
10. Weiman Leather Wipes UV Protected Conditioners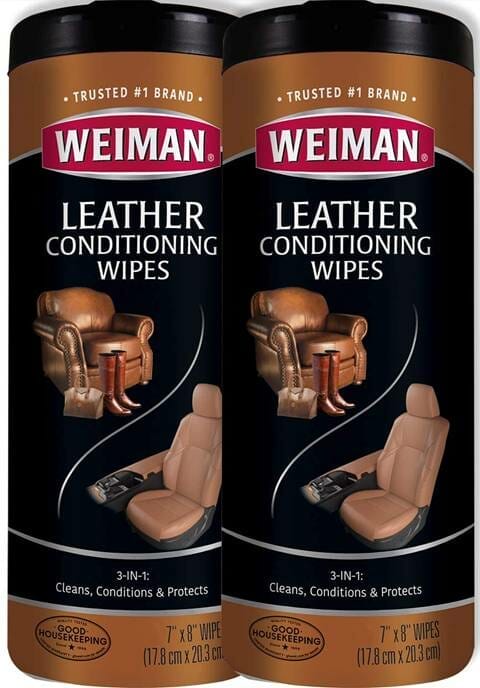 We are wrapping up the review section with another leather wipe product from Weiman. This brand specializes in making cleaners for surfaces of all types around the house. But cleaning is not their main focus; it is to make every surface of your home look spectacular.
These wipes are meant for finished leather only. So, do not use them on suede, Natuzzi brand, nubuck, or unfinished leather jackets.
The wipes are simple and easy to use. Simply take one out, wipe the surface of your jacket, and then buff the formula in with a soft cloth. It provides UV ray protection, which is a plus.
However, these wipes dry out from the air fast, so you have to be quick when using them. Also, while they do restore & protect leather, they leave a non-shiny, dull finish that you might not like.
Facts to Consider Before Buying Leather Jacket Conditioner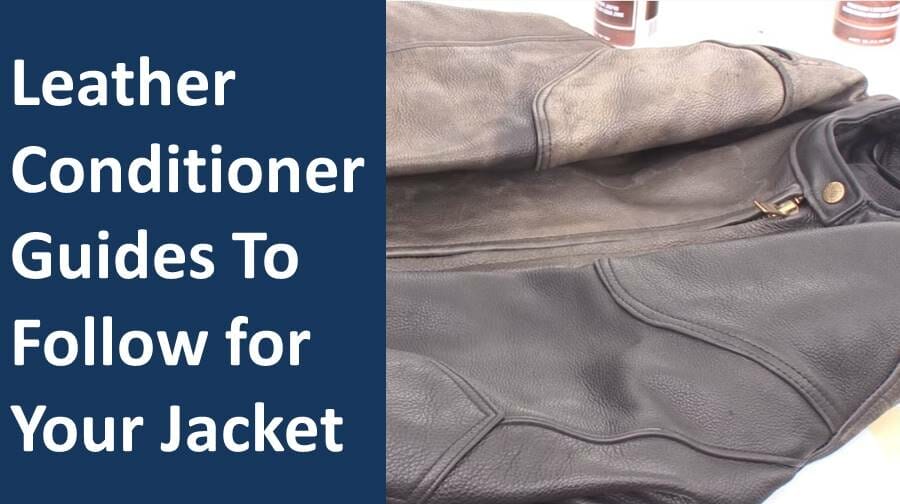 In order to find the best leather jacket conditioner for yourself, there are certain features you should watch out for when shopping. These will help you choose one that is perfect for you. In this section, some such features are explained below:
Versatile
More often than not, leather conditioners are made to work with many leather products, not just leather jackets. Look for a product that can work on leather jackets, purses, shoes, sofas, and even car seats.
Otherwise, you might have to end up buying another leather conditioner for the other products at your home. That would be a waste, at you will essentially get two of very similar products for very similar applications.
Getting one that can do it all will save time, money, effort, and storage space. So, always look for multi-useable leather conditioners.
Leather Darkening
Some conditioners can darken the leather once applied. This happens because those conditioners contain waxes and leather oil, such as beeswax and neatsfoot oil.
If your leather jacket is if a darker color, then using such conditioners on them will be safe. However, if your jacket is lighter colored and you do not want that shade to change, then you should exercise caution with conditioners.
You can look up the coat conditioner you have online to see if it contains any darkening ingredients. Or, if you are more daring, you can do a patch test on a less visible part of the jacket.
Generally, higher-quality conditioners do not darken the leather.
Cleaning
Conditioners may or may not come with cleaning properties. Some leather conditioners double as a leather cleaner as they penetrate deep into the pores of leathers and lift any dirt or grime off.
This type of conditioner is more convenient because it cleans and conditions your jacket in one go. They contain a PH balanced cleaning ingredient that cleans and oils that condition.
On the other hand, some conditioners do not clean leather. To be able to use them, you have to clean the leather with a cleaner first. They obviously need more work, but since you use a dedicated cleaner, you get a deeper, more thorough cleaning.
So, if you are someone who gets their jacket dirty a lot, consider getting a leather and conditioner kit. The kit will come with two separate leather cleaners and conditioners.
You can use it to first clean the surface of your jacket deeply and then follow up with the conditioner to moisturize, preserve, and seal it from environmental damage.
If your jacket does not get dirtied up too much, then skip the kit and get a conditioner with cleaning properties instead. It will gently remove the dirt and preserve the jacket.
Non-Toxic
This is an important consideration to have. Sometimes, leather conditioners, particularly inexpensive ones, may come with chemicals that can be toxic. Be careful to steer clear of them and only get verified safe products from trusted brands.
A jacket is something that will stay close to your body. If it is conditioned with toxic chemicals, it may affect your skin negatively. Also, it can harm any pets you may have.
Such risk is not worth it, as you have to end up paying a lot of medical bills to save only a few bucks in conditioner. So, always get ones with quality ingredients.
UV Rays Protected
If you spend time under the sun a lot, then your leather jacket can get damaged from prolonged exposure to UV rays. So, look for conditioners that offer UV ray protection to leather.
Types of Leather Jacket Conditioner
Leather jacket conditioners come in a few different forms. To determine which type is the best leather jacket conditioner for you, know the differences;
Conditioning Wipes
Conditioners that come in wipes are the easiest to use. Just take a wipe out, rub it on the jacket in sections, and you're pretty much done! However, this kind of conditioner does not provide deep condition to your jackets.
So, if you need something that you can use easily every week or so, this would be perfect. For deep conditioning, keep reading.
Liquid Conditioners
These conditioners come in spray bottles. You can spray the solution directly on your jacket super-fast and then follow in with a soft cloth to rub the product in. The spray nozzle can be changed to adjust the amount you are spraying out.
The main problem with liquid ones is, they take longer to dry because they are more liquid.
Leather Conditioner Balms
As you can guess, these conditioners come in a balm form. They are usually very thick, and they often contain waxes to get the thickness.
Because of the waxiness, you should use your hands when applying conditioner balms. The heat of your body will warm up and melt the product, allowing it to penetrate deep into the pores of your jacket and condition it really deeply.
Leather Conditioner Creams
And last, but certainly not the least, comes leather jacket creams. Applying these is pretty easy. They are not as solid as balms, so you do not have to give much effort into working the product into the leather.
Again, they are not as watery as liquids either, so you get better control over the application and the amount of product used. To apply creams, use sponges or microfiber cloths.
Tips on How to Care & Maintain Leather Jackets
Here are some tips you should follow:
Leather needs to breathe sometimes, just like skin. Keep your jacket in a well-ventilated place, so that excess moisture can evaporate naturally from it. Do not use plastic bags to store your leather jacket.
If the jacket gets soaked in water, do not throw it under direct sunlight or heat. Let it dry in the air naturally instead, even if it takes longer to dry fully.
Always do a patch test when trying out a new conditioner or polish.
Wipe the jacket down with a damp sponge or cloth every one to two weeks to remove accumulated grime and dirt.
Use a leather jacket protector or conditioner every 3-6 months.
Frequently Asked Questions
How to condition leather jackets?
Firstly, apply a leather cleaner on a towel or sponge and clean your leather jacket with it, one section at a time. Then, use another clean cloth or sponge and mop the excess cleaner off of the jacket. Dry any remaining moisture off with yet another clean cloth or towel.
Your jacket is ready for the conditioner now. Apply some conditioner on a sponge or cloth, and then gently rub it on the jacket, working in sections. Remember to buff the product in with a soft cloth.
Leave the jacket for 30 to 40 minutes. Then, give the entire jacket one final wipe to remove any excess products and sticky residue. And ta-da! Your leather jacket is conditioned.
Final Words
The time has come to wrap this article up. We hope we have helped provide enough information and options to you to choose the best leather jacket conditioner for yourself.
Keep our tips for maintaining leather jackets in mind, and you can keep your jacket in the best condition for years.