You don't want to settle for your 10-year-old prom tie to wear to your first job interview (or 100th, whichever it is). As the saying goes, you should always "dress to impress", and this isn't limited to wooing the ladies only.
A professional situation calls for something classier and mature-looking, as opposed to overly flashy with tons of patterns. So if the ties in your wardrobe don't look like that, we've got you covered.
Made with high-quality silk, polyester, wool, and even cotton fabrics, our top picks for the best tie for interview wouldn't look tacky and would increase your chances of landing a job!
Best Ties for Interview — Our Top Picks
A good tie is an integral part of the male interview attire. So, we have handpicked about 8 products to provide you with some options and variations.
1. Jacob Alexander Men's Tie (solid color)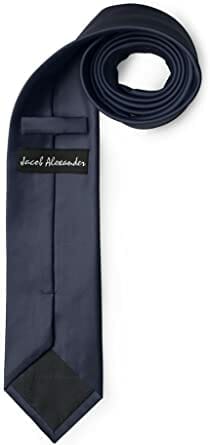 Starting off this list with a banger, this amazing tie by Jacob Alexander is sure to impress your would-be boss. While no executive has the kind of time to admire your tie, they surely will appreciate the effort you put into looking dapper.
This particular tie comes in a navy blue shade, but there are about 40 colors to choose from. However, our recommendation would be to go for a dark neutral color to go with your executive interview outfit.
Jacob Alexander's neckties usually measure 3.25 inches in width, which is pretty standard if you ask us. The medium satin fabric feels very high quality, and makes any formal outfit look good. Buy this tie if you want something elegant and professional.
2. KissTies Neck Tie with Gift Box (solid color)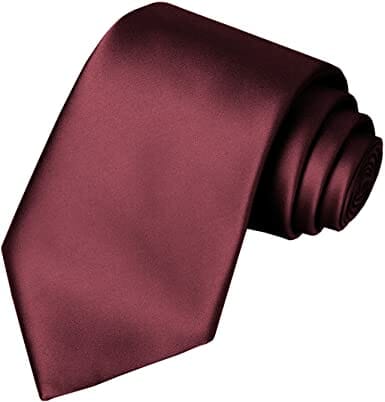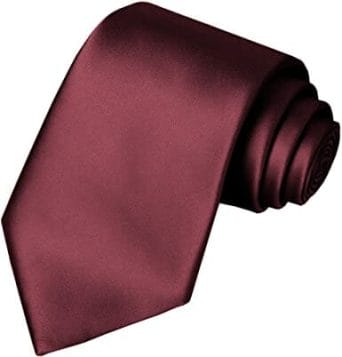 If you're into more shiny ties, this one would be a better choice for you. This tie by the brand KissTies is a tie more appropriate for parties and special occasions. But that doesn't mean it can't be worn to interviews.
The tie we are reviewing comes in a shiny satin finish and is available in burgundy and 29 other vibrant or neutral colors. Being shiny, it may seem a bit extra for interview outfits for men, but trust us, at least it's not some crazy pattern tie!
The tie measures 58 inches in length and 3.35 inches in width. This thickness can't be considered too thin or too wide, making it the perfect in-between size. So if you want to portray yourself as confident but not obnoxious, get this tie!
3. HISDERN Plaid Tie and Handkerchief (polka dots)
Okay, so you're feeling really confident today and know that no matter what you wear, you'll get selected. If that's the case, you might be interested in this yellow and purple polka-dotted necktie by HISDERN.
The tie features purple polka dots on a yellow tie, and the fabric of the tie is plaid. It measures about 29 inches in length and 3.4 inches in width, so we can consider this big boy pretty wide and long.
Not to forget, the tie sports bright colors, bold patterns and comes with a bonus handkerchief, making it great for professional interview But if you're confident that your skills would outshine your tie, then go for it, man!
4. DAZI Skinny Ties for Men (solid color)
Alright, let's get back to some real ties for normal people now, shall we? Here's a nice cotton-wool-linen blend fabric tie by DAZI. This is one tie that will not only look good, regardless of the color you choose, and it won't make you look cocky.
Sporting a rust color, this tie is rather thin compared to the previous ones we reviewed, measuring only 2.5 inches. It's pretty long, though, so if you're a tall guy, this is for you.
The color and the fabric make this one of the best, if not the best men's tie for job interview. So we would definitely recommend buying this necktie.
5. TieMart Tie (striped)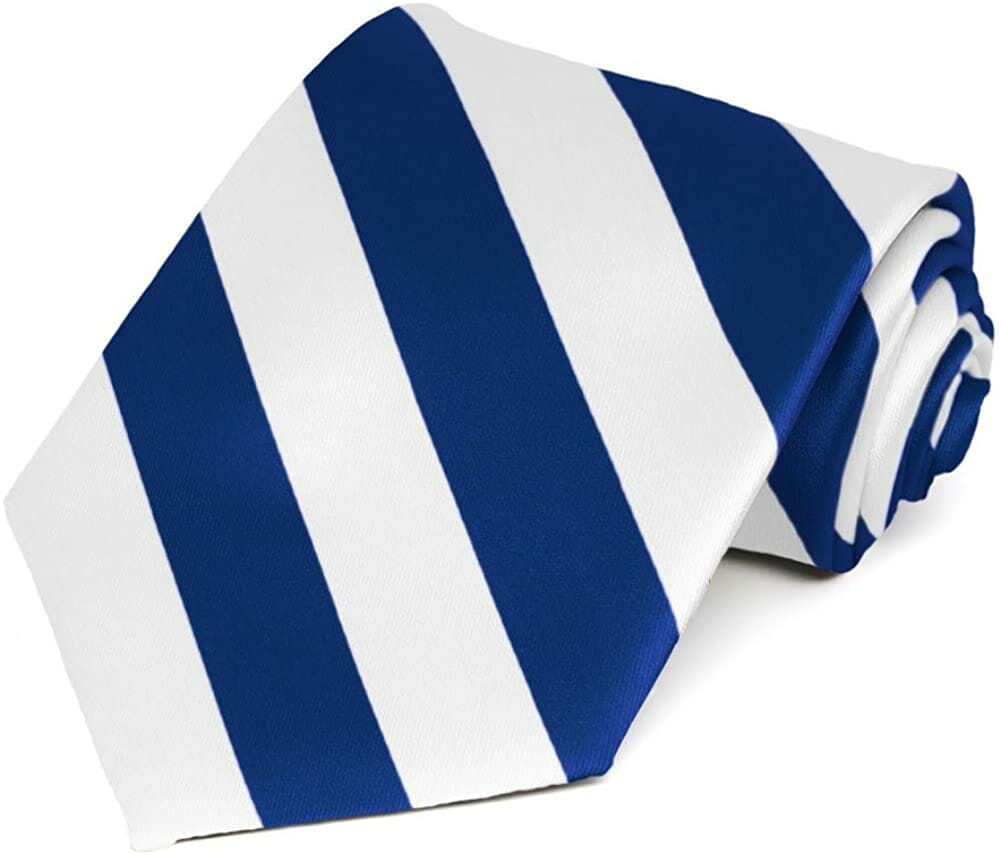 If you're bored of the solid color ties and want to get a patterned tie that won't look obnoxious, we've got you covered there too.
Coming with polyester fabric, the tie sports a white canvas with royal blue slightly thick diagonal stripes. Although it's a patterned tie, and we don't recommend these, this one kind of qualifies for interviews and isn't as bad as that yellow one from earlier.
The measurements of this tie are perfect! 3.25 inches in width and 57 inches in length is the perfect size for a tie for anyone. TieMart produces some quality ties that look good enough to be worn on job interviews.
So if you like this subtle patterned look on a tie, go get it!
6. JEMYGINS Formal Tie with Pocket Square (solid color)
Now comes a tie that's meant for real gentlemen. So gents, if you were looking for a highly elegant and professional-looking tie, this one by JEMYGINS is a perfect choice!
Coming primarily in the color black, this tie has a soft texture and feels premium quality. Measuring 3.15 inches in width and 58 inches in length, this is the perfect tie for any interview as well as black tie events. In our opinion, black is the most appropriate tie color for interview, which is why we love this one so much.
This tie comes with a black pocket square and a nice silver tie pin within the package. So we would definitely suggest that you go right ahead, make the purchase and wear this with a suit to the interview!
7. Wehug Men's Interview Tie (thin stripes)
We have introduced some patterned ties on this list of reviews, but none of those were as elegant as this one. The Wehug's necktie has very subtle stripes of the same color as the tie itself but in a shade darker.
What we mean by that is, the tie comes in red color, and the stripes are a slightly darker shade of red. The color and design of this tie make it worthy of being part of the best interview attire for men.
Measuring 57 inches in length and 3.1 inches in width, this one is also a gentleman's tie. The fabric of the tie is polyester silk, and it feels very high quality. And the best feature of this tie is that it is waterproof, so you might want to invest in this one.
8. Fortunatever Handmade Necktie (textured solid color)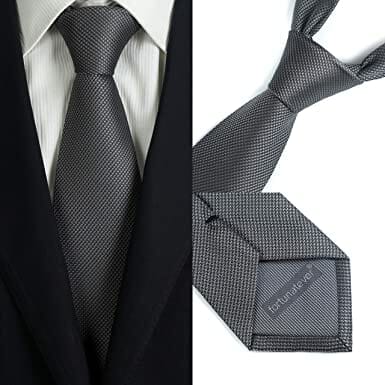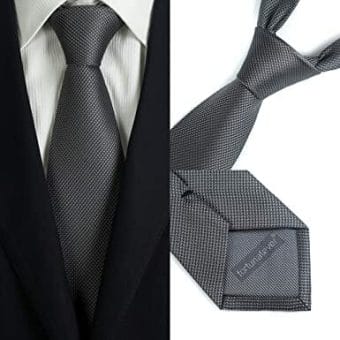 And finally, we have this grey tie by Fortunatever. We're ending this list with another neutral tie with a slight texture to it because it actually looks pretty good.
This tie is handmade using microfiber material and measures 58 inches in length and 3.35 inches in width. This one's probably one of the widest ties on our list, so it leans more towards being part of a simple business outfit.
As it's not something that necessarily pops or stands out, we recommend wearing this with formals to look put together and dapper. While this one is not the best tie for interview, it sure is up there with the top ones.
Tips to Choose the Best Color to Wear to an Interview (Male)
Alright, so now that we are done with our reviews, we bet you have an idea about what the most basic yet attractive tie should be like for interviews. However, we'd like to refresh your memory here by pointing out that the majority of our top picks donned a solid or neutral shade.
For obvious reasons, we did include some patterned ties as well, but that's mainly to cater to our fancier readers here.
The best shirt and tie combo for a male for an interview combines neutral or solid shades with just a hint of pop-color. Let's note down our points here just a bit further-
Take Solids Over Patterns
Unless you are one of our "fancier" readers, we'd suggest you go for a solid-colored tie instead of patterned ones. Yes, design neck-pieces are nice to look at, there's no doubt there. But would you want to put it on for an official interview? We don't think so.
Patterned ties lean more towards parties and casual occasions. However, solid ties go better for official meetings, especially for first job interviews.
On top of that, the versatility of a solid tie can easily outdo the limited outfit combo of a decorated neck-piece.
Take Neutrals Over Brights
Similar to choosing solids over patterns, you should also opt for a neutral tie instead of a super-bright colored one for an interview.
Wearing a toned-down tie is much better than donning one that could make you look like a goddamned highlighter on the street. It's just weird.
Different Colors' Meaning Based on Interview
Did you know that the color of your necktie is not only for aesthetic purposes? The best tie color for interview should be one that represents a strong, leader-like meaning.
For example, you should avoid shades such as pink, multi-colored, or even neon green, as these are either just too bright or too "fluffy". We're sure you don't want to show up to an interview wearing a tie that makes you look like you'd been on a cotton-candy hunt all your life.
So which are good colors to wear to an interview? Let's check them out below-
Navy
To cut things short, know that navy is a shade you can never go wrong with! Navy blue ties are classy, look chic, and are super subtle while being seemingly leader-like.
You can even opt for a slightly textured or light-patterned navy blue tie for your next job interview.
Grey
If you want to go for a completely solid look for your interview, stick with grey. This shade gives off a professional and calculated vibe. Coupling a grey tie with a crisp, white shirt and charcoal pants can make you the center of attention!
Red
Although seeming like a great choice to many, we'd suggest you not go for a red-colored tie for interviews.
Red is a very tricky shade to deal with, as some people perceive it as powerful, while others take it as aggressive.
For a color like this, you'd have to be very smart with your outfit combo. Maybe pairing it up with a plain, white shirt will tone down the look (we think this is the best interview attire for men!)
Black
Now, this is a color that you can always rock! Black is ideal for a professional interview, as it is usually associated with classiness, punctuality, and authority. Ties of this shade can easily be paired up with any outfit, be it with a white shirt, or even for a full black-on-black combo.
Brown
While usually being associated with coolness and steadfast behavior, brown can also be perceived as a lazy and passive color if not worn for the right interview.
FAQs on Tie to Wear to an Interview
Still, confused about what the ideal interview attire should be like? No problem. Our FAQ section will try its best to answer all your lingering doubts.
How to Wear a Tie for Interview?
Wearing a tie is hard as it is, but creating the best tie knot for interview can be a much harder task considering the pressure to look presentable.
If you don't want to look too polished or just plain lazy, go for the "Full Windsor" knot style. This style is classy and super easy to create as well. The symmetrical design of this knot will help you achieve a cleaner look, especially when coupled with a nicely pressed shirt and neutral pants. Don't forget to shine your shoes first!
What Color Tie with Navy Suit for Interview?
You can never go wrong with a simple yet classy navy suit for an interview. But adding a monochromatic-colored tie to the combo can enhance the entire look!
We think wearing a subtle colored tie, such as in either a grey or slightly burgundy shade will look best with a navy blue suit.
Do I Have to Wear a Neck-tie in an Interview?
Well, no. You don't necessarily have to wear a tie, but it surely does produce a cleaner and much formal look during an interview. We don't think it's necessary to wear a tie for a video interview, but wearing one can get you bonus points.
Unless stated that you can wear casuals, we think it's wiser to opt for a tie to finish your outfit. This is ideal if your entire get-up is rather monotone, as adding a tie to that can work as a statement piece.
Should My Tie be Lighter than My Shirt?
This is an absolute no-no. As a general rule of thumb, your tie should always be at least a shade darker than the shirt you are wearing underneath.
For example, if you have a white shirt on, put on a grey tie. If you have a light blue shirt on, wear a navy blue tie, and so on.
How can I Pick a Good Tie?
Contrary to popular belief, shopping for ties isn't all that bad. All you need to do is have some knowledge about the fabric (silk and cashmere being the best here) and the kind of design you want.
Take our word for it and go for either linen, silk, or satin fabric tie in a solid shade.
Final Words
On top of buying the best tie for interview make sure your whole attire is on fleek! You want to ace your interview after all, and the tie is an accessory to boost those chances.
Follow our advice and go for neutral colors and solid design ties, so you don't appear as an insincere candidate with no sense of professionalism. The rest is up to you!