Planners come in two different kinds – dated and undated. A dated planner is perfect for someone who updates their planner daily, while the latter is for someone who doesn't.
Now, if you're someone who doesn't want the restriction of updating the planner daily, then we've got the solution for you. Here, we'll aid you in finding the ideal choice for you with a review of the best undated planners available right now. So, without waiting any further, let's get into the real deal.
Benefits of Using an Undated Planner
Now that we know the difference between an undated planner and a dated one, let's see the benefits that undated planners have to offer.
Stop and Start Whenever You Want
With a non-dated planner, there is no waiting for a week or a month to pass before you can start planning.
Along with that, there is no wasting space to skip the date because there is no date.
Unlike a dated planner, no date planners can be used later if not used before, making it cost-effective.
Since there is no need to change the planner with time, you can actually use it for a long time, which is convenient for most people.
You can theme undated planners as you wish and actually make them your own.
13 Best Undated Planners
We have put together reviews on 12 amazing undated planners that can be perfect for your kind of lifestyle. So, here goes:
1. Freedom Mastery Undated Deluxe Weekly, Monthly Planner
The first entry in our bunch of reviews would be the Undated Deluxe Weekly by the Freedom Mastery Story. This planner is on the heavier side of the spectrum when we bring features into the equation; it's packed with options that are perfect for a multi-tasker. So, let's break that down into further words.
It is meant for those who are looking forward to setting goals in life and achieving them at the same time while tracking the progress themselves. The features that the Law of Attraction planner offers include ones that segment the whole thing into workable parts.
This undated weekly planner comes with 248 pages, including 52 weekly overview sections, 12 monthly sections, 45 journal pages, and extra perks like mind maps, habit trackers, etc.
Key Features:
Pages: 248
Cover Material: Faux Leather
Weekly Sections: 52
Monthly Sections: 12
Journal Pages: 45
Pros:
Designed to increase productivity
Weekly and monthly segments
Extra self-improvement features
Premium finish
Cons
The hourly schedule part consumes a lot of space
2. BK. Undated Planner for any Year
Next up, we have an undated planner by the well-known brand BK. This one's called The Perfect Planner, and BK markets it to be perfect for any year. So, let's see what this one has to offer.
At first, let's talk about who this one is meant for. This one is a simpler undated planner among the whole bunch. It is for people who want to keep things simple and elegant. So, it would be perfect for someone who works a corporate job and keeps a planner to write down necessary events but doesn't want it to be flashy.
Secondly, we have the features that this undated monthly planner holds. The pages are in A5 format, meaning they are 5.8 inches in width and 8.3 inches in length. Adding to that, the planner comes in 7 different color options, which gives you a variety of choices.
Key Features:
KePage Size: A5
Length: 8.3 inches
Width: 5.8 inches
Number of Color Options: 7
Pros:
Comes in 7 colors
Simple and elegant
Month stickers included in the package
Premium leather cover
Cons
Months and days not listed
3. Blueline NotePro Undated Daily Planner – Spiral
The NotePro Planner by Blueline is another amazing addition to the whole lineup. This one is the simplest planner on the entire list and is considered the best undated spiral planner. So, let's see why we say so.
Being a planner without dates, the NotePro is as simple as can get. This one has no markings in it. So, it's meant for those who make plans on the go without keeping a specific interval in mind.
Along with that, the planner has space for goals and actions, so it might be simple, but it is also equipped with people who want to be productive without having the restrictions of months and days.
As for the features, the NotePro has a wooden cover that makes it look sleek with pages that are 11 inches in length and 8 ½ inches in width. So, it's pretty broad in general.
Along with all that, the NotePro also has timings set for appointments starting from 7 AM to 11 PM. Moreover, the journal page is margined for more structured notes with the plans.
Key Features:
Length: 11 inches
Width: 8 ½ inches
Cover material: Wood
Pros:
Simple for corporate employees
Doesn't have any date markings
Has time stamps for appointments
Large pages
Cons
Lack of Structural Planning Scope
4. Lemons & Co. Undated Daily Productivity Planner
Lemons and Co.'s Daily Productivity Planner is another planner with amazing potential. It has perks that come quite handy while planning a day. They have tried to put it in such a manner that people will be able to categorize almost every task around them.
This planner is one of the undated planners for productivity. It's for people who have a lot of tasks in their day and want to categorize them to make things easier.
They can easily put their tasks in The Matrix, where you can divide them between "Urgent", "Not Urgent", "Important", and "Not Important"; this makes task tracking according to priorities a whole lot easier.
Key Features:
Page Size: A5
Length: 8.3 inches
Width: 5.8 inches
Planning Capacity: 6 months
Pros:
Designed for productivity
Task categorization options
Comes with all the perks
Has extra space for notes
Cons
Will only last for 6 months if used daily
5. Action Publishing UNDATED Minimalist Day Planner – Spiral
Now we have the best minimalist planner on this list. This planner is produced by Action Publishing, and they have nailed the minimalist approach towards life with this planner. The planner only has what is necessary and nothing more.
So, this planner is definitely for those who like the minimalist aesthetic. They can carry it around without it standing out too much, and they stay away from all the clutter.
Moreover, this planner will go perfectly with minimalist office and desk setups. We believe that this planner would be more suitable for people who prefer solid colors.
Key Features:
Page Size: Large
Length: 11 inches
Width: 8.5 inches
Cover Material: Paper
Binding Type: Spiral
Pros:
Minimalist design
Effective layout which helps in planning
High-quality paper
Cons
Design might seem too bland to some people
6. Erin Condren 12 Month Undated Softbound Focused Planner
Next up, we have the Erin Corden planner. Now, this one's an absolute catch, and here's why:
This planner is a premium grade one with top of the line finishing and paper. So, this is a planner for the top officials who have enough funds to spare and get this one for their daily planning needs.
Moreover, the paper is of A5 size, so it is perfect for meetings and such. So, if you're a CEO of some sort, you should give this a look.
Key Features:
Page Size: A5
Length: 8.3 inches
Width: 5.8 inches
Planning Capacity: 12 months
Pros:
The perfect solution to your planning needs
Dot grid note pages
Made with premium-grade paper
Lasts 12 months
Cons
A bit too much on the premium side
7. BestSelf Undated 13-Week Organizers
The SELF by BestSelf can be called the Happiness Planner, thanks to what it stands for. It is a planner that strives to fulfill your needs of productivity, and at the same time, it also keeps your happiness in check, thanks to its organized journal.
This thing is one of the trendy planners out there. So, it would be perfect for college kids and young adults, thanks to the way it is built. BestSelf tried to go creative with this one caters to the needs of the younger generation as they are the ones who are trying to plan their way through university and life right now.
The planner comes with an undated calendar to navigate you day to day. Moreover, the 100gsm white ivory paper is great to work with when using fountain pens. Along with all that, it comes with a 5.75-inch by 8.5-inch cover, which makes it look gorgeous.
Key Features:
Length: 8.5 inches
Width: 5.75 inches
Paper Thickness: 100GSM
Pros:
White ivory paper inside
Perfect for fountain pens
Comes with 3 goal templates
Luxuriously crafted
Cons
Exclusively caters to a younger generation
8. Sunnyside Undated Planner – Hourly, Daily Organizer
If you're looking for a planner with vertical layouts, then this Sunnyside Undated Planner is for you.
Sunnyside has put in sections in the planner down to the hour. So, this planner would be a good fit for office assistants and people with busy schedules as it can plan down to the very hour. Moreover, you can also track priorities with this to streamline work better.
This one has 365 pages for you to make entries in, and each page has innovative ways to note your plan down. Moreover, there's also a two-page layout for each month to summarize things. Along with that, the planner comes with A5-sized paper and an attached bookmark ribbon.
Key Features:
Page Size: A5
Length: 8.3 inches
Width: 5.8 inches
Layout: Vertical
Pros:
Has enough space for 365 days
Designed for better project planning
Priority tracking abilities
Notes things down to the hour
Cons
Hourly pages are only from 6 AM to 9 PM
9. Oneirom Undated Academic Weekly & Monthly Planner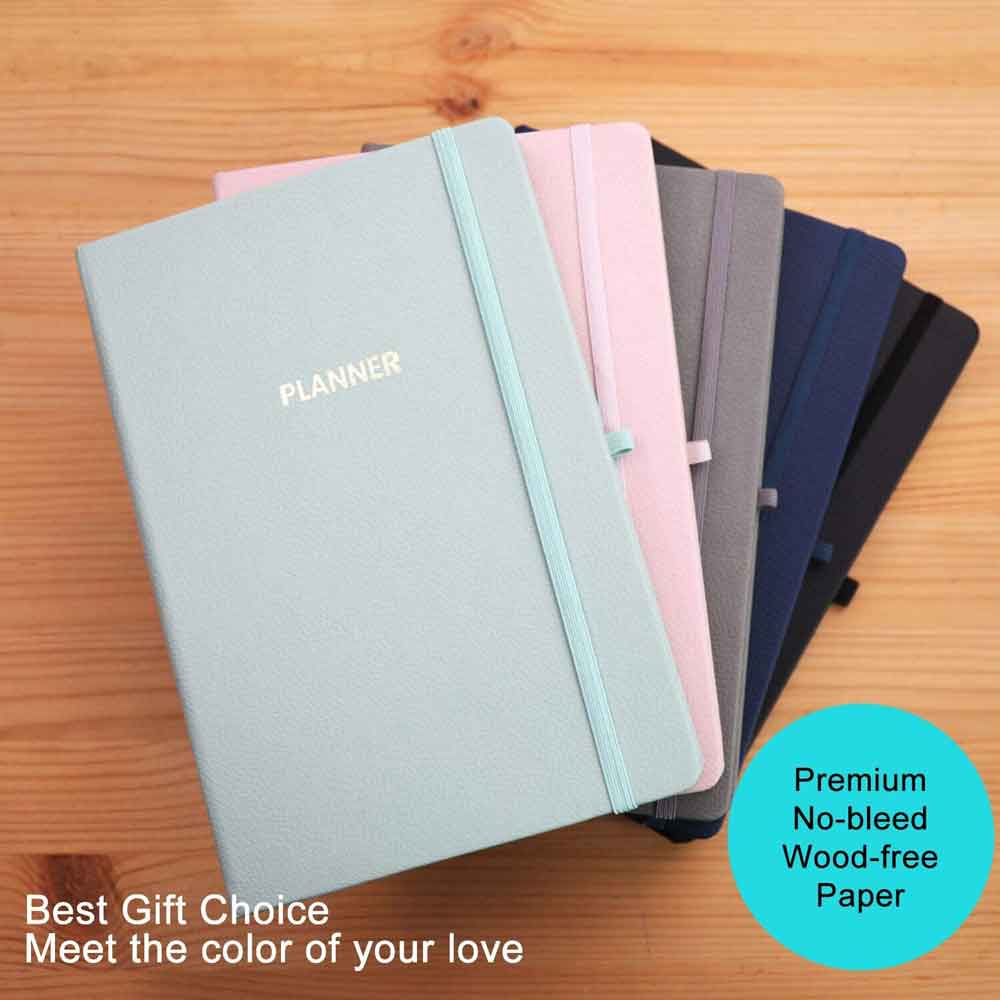 This undated daily planner by Oneirom is another good entry into our list. Its professional designs and perks make it all the better. This one is a daily planner that almost anyone can go for. Moreover, it's very compact. Having the size of 5.6"x 8.3", this daily planner can easily fit in a lady's handbag.
So, thanks to this compactness, this is the best small planner on this list and a definite lady's favorite. Along with all that, this Oneirom planner has a sleek and premium finish that can add to your table's aesthetics.
Now, this dateless planner comes with 12 months' worth of pages that can easily carry you through an academic year if you use it daily. Moreover, it has thick wood-free paper in it, which resists damage from light and air.
Key Features:
Page Type: Thick Wood-Free
Length: 8.3 inches
Width: 5.6 inches
Planning Capacity: 12 months
Pros:
Compact in size
Comes with necessary stickers
Professional design
Designed to reach goals
Cons
Gel pens bleed through sheets
10. Get Stuff Done 13 Week Undated Planner for Productivity
For our next entry, we have a planner by Get Stuff Done. They have made an amazing planner, which is a complete productivity package.
Get Stuff Done has made this planner mostly for people who like to have all of their notes for plans organized in one place. This planner is made to help the user achieve goals. Therefore, you'll find productivity tips inside. It also has an inner pocket and built-in tabs for better navigation.
Key Features:
Length: 8.3 inches
Width: 5.5 inches
Planning Capacity: 13 weeks
Pros:
Made for achievers
Includes built-in tabs and bookmark
Has a pen holder
Easy-to-use
Cons
11. GERUSEA Daily Planner, All in One
The next one here is a planner by GERUSEA. This undated planner organizer is an all-in-one solution to your planner needs.
For starters, this undated daily planner is for the average outdoor user. Anyone who casually uses an organizer to keep track of their work and progress would love to use this planner because it is safe and easy to use. It also includes space to mention meals and exercise routines, along with a motivation graph.
This daily planner comes with 432 pages for use. There are 365 pages for 365 days to ensure that there is no wastage.
Key Features:
Page Volume: 432 pages
Length: 7.5 inches
Width: 5.5 inches
Planning Capacity: 12 months
Pros:
Has a yearlong format
Tends to motivate user
Has space for recording meals
Comes with dedicated space for exercises
Cons
Inner lines can be too small for some
12. Panda Undated Spiral Daily Planner
Now we have the Daily Planner 2.0 by Panda Planner. This one is a great addition to our list because of its vertical layout.
People who like being tidy with their organization will definitely like this planner. The reason behind this is that there are segments in the whole planner for different kinds of planning. That included 12-month annual planning, monthly, weekly, and daily planning. Thanks to this segmentation, the whole plan looks clean.
The planner comes at a 5.75"x8.25" size, with there being a day per page layout. Moreover, this undated weekly planner spiral has 80 GSM paper for a good writing experience.
Key Features:
Length: 8.25 inches
Width: 5.75 inches
Paper Thickness: 80GSM
Pros:
Has a vertical layout for convenience
Daily, weekly, monthly and annual planner
Wire binding for durability
User-friendly
Cons
Only 3 months' worth of planning space
13. Purpose Planner Undated – Monthly Weekly Daily
Our next entry would be none other than Purpose Planner. They like keeping things simple and worthy of use for both students and professionals; this one is no different.
This undated productivity-based planner is made with the idea of being easy to use. But at the same time, Purpose Planner wanted to be able to boost productivity. So, this planner is for the average user who wants to be productive as well.
The planner has a cover made of faux leather and comes with pages worth six months of planning. Moreover, the page is premium 100GSM ones and comes at the size of B5.
Key Features:
Page Size: B5
Length: 9.75 inches
Width: 7.75 inches
Paper Thickness: 100GSM
Pros:
Easy to use
Has goal planning system
Premium 100GSM pages
Boosts productivity
Cons
Only 6 months of space for planning
Also Read: Best Manly Planners
Dated Vs. Undated Planners – The Difference
We'll compare both dated and non dated planners here to give you an idea of which one would suit you better.
For starters, dated planners are the ones that have the dates marked on them. So, they are made to be used for a specific year or a specific time period in general. All the pages are marked by the days, along with their dates. So, you have to be precise with what you record in a dated planner.
On the other hand, undated planners are the ones that have dates marked on them. So, that gives you the freedom of starting wherever you stopped if you end up skipping a day of planning.
Conclusion
And that brings us to the end of our journey of helping you find the best undated planners around. We hope that all this information was actually helpful to you. So, please put some thought in before deciding the undated planner that you'll be using daily.
Other than that, feel free to let us know if you have any feedback that makes us better at what we do.