Are you tired of wearing typical neckties and bow ties? Those are pretty mainstream, and everyone wears them. You want to be someone who stands out.
Frankly speaking, bolo ties are your best friend when you're feeling the dramatic oomph or maybe just want to jump on the hipster bandwagon.
If you're a fan of Samuel L. Jackson and John Travolta, you've definitely searched for 'bolo tie pulp fiction' on Google. And in case you're looking for this accessory, you're in the right place, my friend.
We're here to help you find the best bolo ties and will be reviewing 10 of our top picks. Our bolo ties here come with high-end polish, durable fabric. The ones which are made of leather have got more longevity than the typical ones.
Read the reviews to know more.
10 Best Men's Bolo Ties Review
To help you find the right one, we have handpicked a few of the best we found online and reviewed them, so you don't have to go through the guesswork. Let's take a look at these ties!
1. HUABOLA CALYN Cowboy
HUABOLA CALYN has a bunch of unique enchanting bolo ties to choose from. And the good part is that they are pretty straightforward about the product queries and materials.
This bolo tie rocks a natural agate stone with some designs engraved around it. The rope is crafted with a great leather-like material braided with a metal tip to prevent it from detangling.
Anyone can use this tie, be it as jewelry or as decoration. It's a must-have for those who channel the inner Vincent Vega out because this is the exact looking one. So, if you're looking for some cool bolo ties, you have got to check out this one!
2. Moranse Tiger Eye Celtic
The Moranse bolo tie comes in about 12 different styles to choose from. This tiger eye tie is a fantastic option to light up your necks every time your T-shirt or shirts feel bland.
Illuminating tiger eye stone on this tie is enough to domineer your courage on any function. The cord holds the tie very nicely altogether, and the nickel tips are also tightly connected to the cord's ends.
So, be fierce and show your fearlessness wearing this versatile bolo tie that doesn't fall short in terms of quality despite being so affordable.
3. HUABOLA CALYN Letter
HUABOLA also brings you a customizable letter bolo tie for when you want your or your S/O's name initials on you to express the love.
This ravishing tie comprises an alloy stone on which the letters are embossed. The centerpiece's back has a claw that allows the user to tighten or loosen it and ensures that it perfectly stays in place.
Be it Halloween or a special date, this enchanting bolo tie can uplift your mood any day when you receive compliments for it. This can also be a great gift for those looking for mens bolo tie for wedding.
4. GelConnie Native American Rodeo
You can find a bunch of extraordinary-looking bolo ties for men on GelConnie. They have a variety of mens western ties that will elevate any of your looks.
And this native tie not only stands out in terms of top-notch quality but also is fashionably spot on. This high-quality and long-lasting unisex leather necktie with Zinc alloy can easily be worn with any outfit.
From traditional to modern to edgy and urban, whatever theme you are going out for, this Rodeo bolo tie will accompany you very smoothly.
5. KeCol Fashion Vintage Native American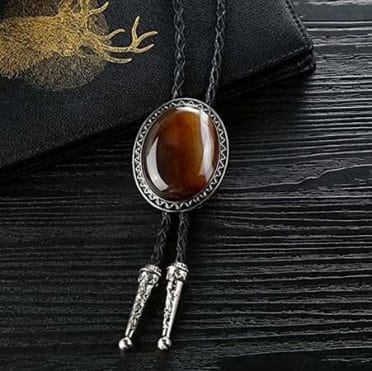 You can find any goth or dark academia aesthetic accessories on KeCol. And their collection of vintage bolo ties will leave those aesthetic-loving people in awe.
This tie comes in a notably long cord that is about 41 inches and is hand braided with a metal tip in the end. Apart from the slight color difference in the natural emerald stone, this product doesn't lack anything.
Get it as a gift for Christmas or maybe just for yourself because you can't get a better deal than this.
6. COOLLA Vintage Cicada
Most jewelry hoarders have loved COOLLA because of its well-polished and luxurious products at affordable prices.
It comes in a cute little cicada design that is suitable for any casual or corporate wear. The tie is hollow as the braided cords slip through it. You can remove the cord anytime detaching from the clamps.
This unique feature will help you replace the rope with a different kind if you want to or if the original one breaks. Don't miss out on this meaningful insect bolo tie which comes at such a low price.
7. Moranse Natural Stone
This is one simple-looking bolo tie from Moranse, and it doesn't stop you from going bold because the stone speaks for itself.
Made from natural Celtic-style stone, the tie comes in a variety of 28 colors. So, people might be a bit confused about which color to go for. The material is made of high-quality Zinc Alloy and cowhide rope.
If you're confused about which color to go for, we suggest going classic with the black, and it is not only a men's bolo tie anyone can slay it.
8. QUKE 3D American Eagle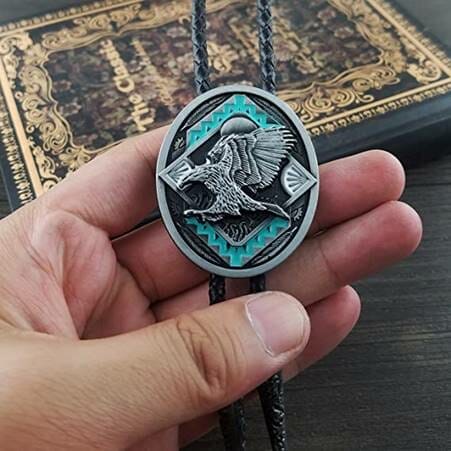 QUKE has brought those action-loving people this chic 3D eagle bolo tie that we promise won't disappoint you.
This tie does the magic that your typical clothes lack. The eagle is etched on the center with blue-green motifs around it. The cord is not very malleable and might not stay in place at times.
If you are someone that adores eagles or just, in general, like to show you're tough, then get this tie.
9. Moranse Golden Initial Letter
This is another customizable letter bolo tie, but this time it is from Moranse. Despite being so down on our list, the bolo tie lives entirely up to the brands' name.
This modern bolo tie has a bold silver-colored centerpiece where the letter is embossed in gold. The color combination might seem tacky to some but will subtly go with your vintage outfits.
It is a great option for antique hoarders to symbolize their valuable memories or person in a wearable letter form.
10. HUABOLA CALYN Western Cowboy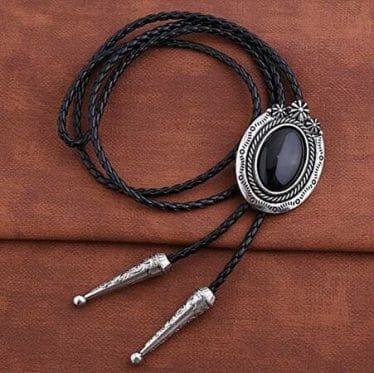 This is the third HUABOLA product on our list but definitely not the least. In terms of quality and material, Huabola never sacrifices anything, and this product is the embodiment.
A sleek-looking stone with a silver surrounding is the eye-catching part of this tie. The tie's drape is augmented by the rope's unique braided design, making it more beautiful and stylish.
You can wear this simple tie on a daily basis but keep in mind, as it is entirely handmade, Huabola has warned for minimal crackling.
FAQ on Best Bolo Tie
To add to your convenience, we have added an FAQ section that should answer any further queries.
Is it OK to wear a bolo tie?
Yes, if you want to wear a bolo tie, then you can wear it. A loose bolo tie, worn more like a necklace, adds a laid-back touch to every outfit.
If you're into casual looks or confused about what to wear, then go for bolo ties as they won't disappoint you with their versatility.
How long should a bolo tie be?
Bolo ties usually come in two sizes. The usual ones are about 38 inches long from one knot to the other. And if you're above 6 feet tall, then you should go for the extra-long.
The average length is about 42 inches from end knot to end knot, excluding the sterling silver tips. And it also provides you about 2 inches more on each side than the regular bolo ties.
How do you attach bolo tips?
Bolo tips are attached by gluing them to the ends of the bolo cord.
Without elegant tips on the ends of each tie, a bolo tie isn't complete. Bolo tie tips add weight to your cord while also adding elegance to your outfit.
If your rope is lightweight and prone to kinks, you may want to use a heavier bolo tie tip to hold it straight. And pay attention to the size, or else they won't fit your rope correctly.
Are bolo ties Native American?
Yes, bolo ties are indeed Native American. During the 1930s, when Native American men from the Zuni, Hopi, and Navajo tribes wore bandanas around their heads, some of the first bolo ties appeared.
Native American bolo ties are usually made of sterling silver with turquoise accents and braided leather rope.
Are bolo ties formal?
Bolo ties are the best option to opt-out for on any formal occasion when you want to stand out among ordinary people without being too gaudy.
Because of the bolo tie's unique nature, it takes a lot of guts to pull it off. The bolo does not necessarily require the use of a particular Western suit.
You can pair it with an existing traditional suit. You can get away with just a buttoned-down oxford. With a spread collar, a bolo would look very strange.
Final Words
The best bolo ties are the ones that you can pull off effortlessly. You want to dress up in a way that makes you stand out. Try out the vibrant colors and extravagant designs from QUKE or Moranse or whichever brand you like, and see if you look like John Travolta or not.