If writing is something you truly enjoy, you should definitely try a fountain pen for its ornateness and versatility.
Although fountain pens make charming collectibles, you can still choose an everyday-carry (EDC) fountain pen.
Today we are going to talk about LAMY Safaris, PILOT's brand-new Vanishing Point line, the cult-favorite Kaweco Brass Sport, and many more.
Don't worry, the new releases by Faber Castell and Pelikan haven't skipped our minds!
The best EDC fountain pen is the one that has a well-balanced feel, consistent ink flow, and a striking yet minimalistic look.
You sure hit the jackpot with a retractable or interchangeable nib and piston reservoir. But finding a pen that aces a job as simple as writing well is the real deal!
Our Top Picks:
10 Best EDC Fountain Pens In 2022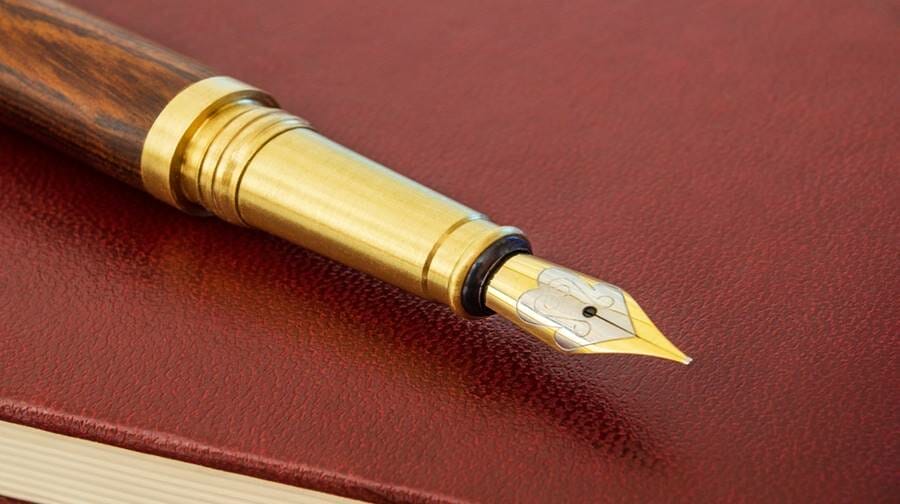 We savor writing with fountain pens for their rich and luxurious feel. And now, we're going to share our top 10 findings to give you a similarly satisfying experience!
1. LAMY Safari Fountain Pen For EDC
LAMY is well-known for its designer fountain pens that combine class and affordability in eye-catching exteriors.
Sporting the signature LAMY design, this one is a handy fountain pen with an outstanding choice of colors.
The color integrity and smoothness never let you get bored with this best EDC fountain pen.
What's more is that its wispy nib size produces fine lines across loose-leaf papers and notebooks. Its ABS plastic body has a soft sheen, and it sure looks fantastic when you take it out from the box!
Pros
Easy to switch between thin and bold nibs
Comes with a Z24 converter
Balanced weight
High-quality ABS plastic body and steel nib
Cons
The ink flow might be a little inconsistent in winter
2. Point Collection Refillable & Retractable Fountain Pen

We all have gloated over an expensive PILOT pen back in the days. Behold their Vanishing Point line- the first-ever retractable fountain pens in the whole world!
You can retract its nib for carrying it around in your shirt pocket- replacing a boring pocket square with something exciting. It's the reason why PILOT Medium Nib 60581 is the best fountain pen for everyday use.
Lastly, the Vanishing Point works splendidly with Iroshizuku ink bottles and Namiki Pilot cartridges.
This portable fountain pen is now available in blue/gold, red/gold, and gunmetal/rhodium colors!
PILOT Vanishing Point Collection Refillable & Retractable Fountain Pen, Black...
THE FIRST & FAVORITE RETRACTABLE FOUNTAIN PEN: Pilot's patented design allows the rhodium-plated 18K gold nib to retract into the barrel when not in use, making this smooth-writing luxury fountain pen easily portable & airplane safe.
INNOVATIVE LUXURY: The Vanishing Point fountain pen comes in an elegant gift box & includes an ink cartridge & CNT40 converter for easy refilling. Available in Extra Fine, Fine, Medium, & Broad nib sizes.
PILOT FINE WRITING COLLECTION: Our innovative, exceptionally crafted fountain pens & elevated gel & ball point pens make great gifts for holidays, birthdays, graduation, Father's Day, Mother's Day & more!
TRUSTED QUALITY: We've been making pens for over 100 years. Whether you're taking notes, stocking up on school or office supplies, or writing in a bullet journal, Pilot has the perfect pen for you!
POWER TO THE PEN: Pilot makes exceptional writing instruments to suit all your needs. We have fountain, ballpoint, retractable, erasable & gel ink pens, whiteboard markers & more for every writing style.
Pros
Comes with a CNT40 converter to make refilling easier
Retractable nib
Good symmetry and balance
Available in a few colors
Cons
3. PILOT Metropolitan Collection EDC Fountain Pen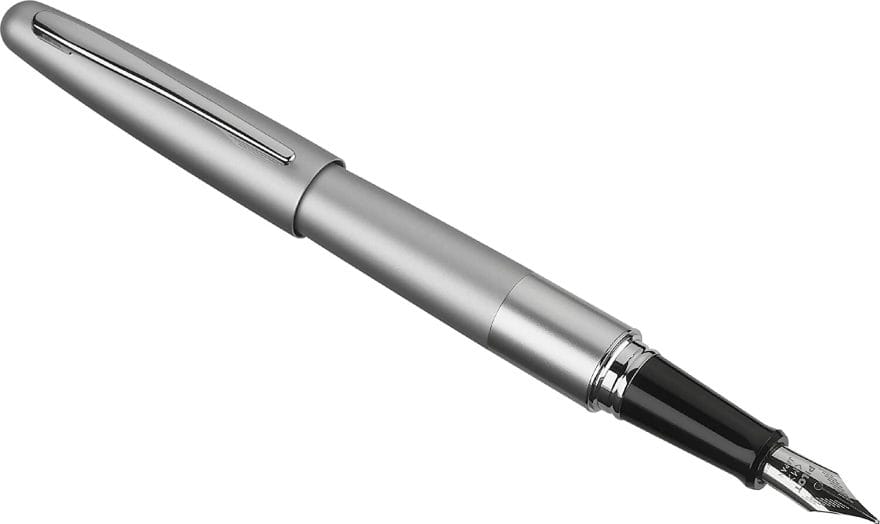 This one has that ideal fountain pen look with a timeless appeal. Once again, PILOT has come up with the best EDC fountain pen that writes like butter!
For starters, it's the finest quality pen at a reasonable price.
You can comfortably write down important notes and thoughts with this fine-tipped pen. It also feels nicely balanced in your hands.
The silver metal body is a breath of fresh air from the usual glossy black and rhodium tones. It also makes a thoughtful gift for a dear one!
Pros
Lightweight construction
The tip becomes smoother over time
Writes with great precision
Looks simple and practical
Cons
The silver body will display scratches over time
4. Dryden Designs Fine Nib Fountain Pen with Ink Refill Converter
Sporting gorgeous pens with smooth ink flow, the family-run Dryden Designs gives the age-old designer brands a run for their money!
You can write 0.5mm slim and smooth lines and flaunt your handwriting with this unique pen.
Many people hesitate to try fountain pens, fearing an inconsistent ink flow. Luckily enough, a pen from Dryden Designs will give you no trouble of that sort!
Enjoy uninterrupted writing at its finest with the best everyday fountain pen by Dryden Designs!
Pros
Doesn't require pressure for writing
Looks fantastic for a present
Produces smooth, 0.5mm lines
Includes a piston reservoir
Cons
Not a simple fountain pen
5. Lamy 2000 Matte Black Fountain Pen
Flaunting a brushed steel and black fiberglass exterior, LAMY 2000 is a state-of-the-art fountain pen that you can try.
In fact, its looks are so revered that you'll find it on a permanent display at the Museum of Modern Arts!
Honestly, it's the simple design and minimalistic flair that make the LAMY 2000 so desirable.
Its polycarbonate Makrolon is a unique material you won't find in a lot of places. And the platinum-coated, 14K gold nib is made extra-fine for luxuriously smooth writing.
Pros
Made of fiberglass and Makrolon
Platinum-coated, 14K gold nib
A small window above the nib for checking ink levels
Extra fine nib and piston-filled ink
Cons
Compatible with ink bottles only
6. Kaweco Sport Fountain Pen
If you're simply tired of those plastic and metal fountain pens, finding a suitable pen can seem so hard. But Kaweco has a solution for you!
This Kaweco is the best pocket fountain pen for its vintage hues and functionality. It looks right out of a pen collector's box (from the top shelf, for that matter).
Running 13cm long, it has the size of a regular ballpoint pen.
We personally liked its faded gold body, and of course, its super comfortable nib. 
Pros
Includes one complimentary ink cartridge
Comes in a beautiful metal box
Its medium nib is perfect for daily writing tasks
Produces a vintage-looking patina over time
Cons
The outer layer oxidizes fast
7. Company Brass Fountain Pen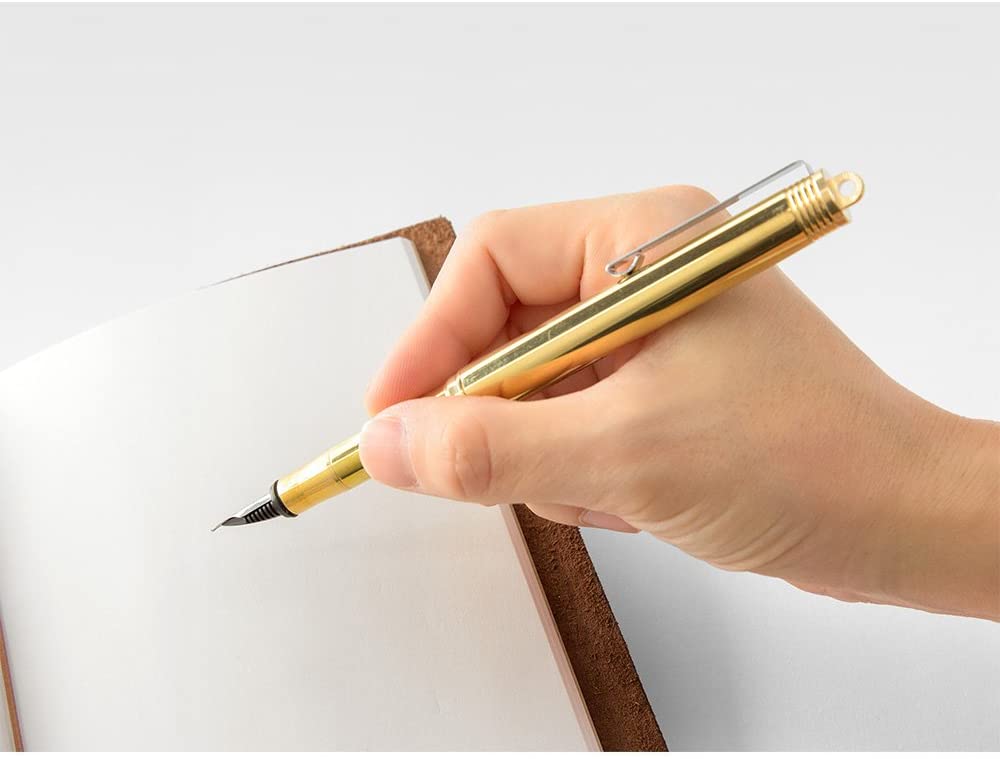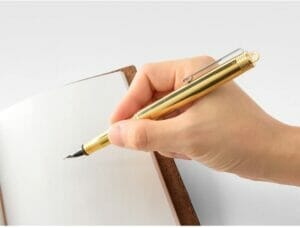 You can safely store this brassy goodness inside your pocket without fearing leaks.
With a length of 97mm, this fine-tipped fountain pen has the most ideal size of pocket pens.
You can attach it to a bag as well. The golden hues give it an expensive, vintage vibe.
It can turn heads when you step into the room and add a touch of elegance to your persona. Many fountain pen enthusiasts will pick this one over a German Kaweco.
Pros
Fine-tipped fountain pens
Doesn't bleed through paper
Looks expensive
Feels lightweight for a metal pen
Cons
Doesn't include a converter
8. PELIKAN Fountain Pen Medium, Black
Featuring a gold-plated clip and a black acrylic-resin cap, the Pelikan 994004 has taken our breath away.
It's not a mini fountain pen and doesn't have a lion emblazoned on it. Then what makes it so popular?
We're going to be honest. The pen looks fantastic. And the fact that Pelikan included a piston reservoir was a nice touch.
If you ask us, this medium-nib pen works fine for everyday use.
Honestly, it depends on how fine you want your handwriting to come out on paper. And we found its medium lines a bit too bold.
Pros
Gold-plated steel nib
Suitable for journaling
Glossy black acrylic barrel
Transparent piston ink tank
Cons
The medium nib produces bold lines
9. Ambition Fountain Pen
When it comes to choosing a budget-friendly fountain pen from a great company, Faber Castell is the first that comes to mind.
It's not exactly a cheap pen. But its generic looks were not the ones we expected from Faber Castell. You can easily mistake it for a gel pen (thanks to the snap-on cap), and it was pretty off-putting for us.
That being said, it's certainly not the best EDC fountain pen. But it's well-balanced and writes well.
Pros
Accepts both cartridge and converter
Easy to swap cartridges
Sturdy and balanced steel construction
Durable stainless-steel nib
Cons
10. TWSBI Diamond Mini Clear Fountain Pen EF nib
This small, see-through fountain is a fun pen for sketching and journaling. It doesn't come with ink and doesn't accept cartridges.
Unless you're okay with using bottles, we don't usually recommend this small fountain pen to writers.
But if you can find a good paper with blends of cotton and wood pulp, this pen will give your writing a shiny flair!
The sheer body and short EF nib serve new-fangled aesthetics to the point that the price stops hurting!
Pros
Extra fine nib for fine writing and sketching
You can check the ink level at any time
Starts writing immediately
Comes with a practical screw-on cap
Cons
Certain inks will clog the nib
Facts Before Buying a Fountain Pen for Everyday Use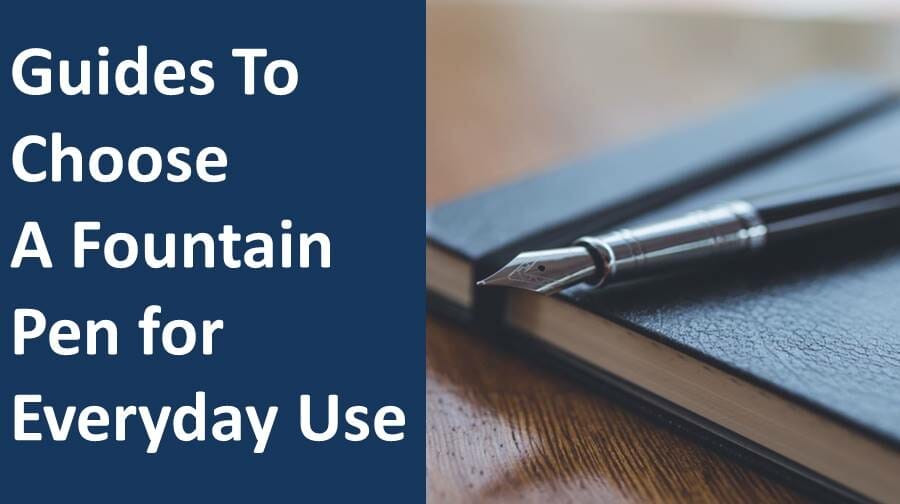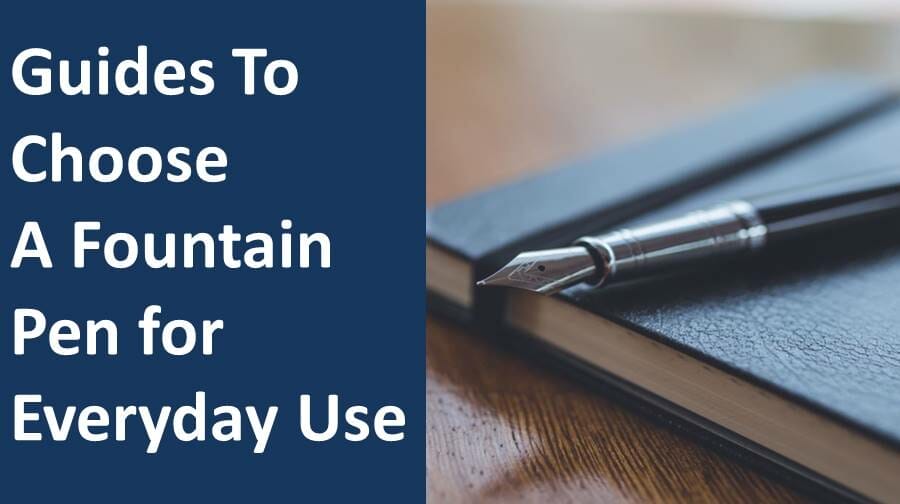 Shifting from inexpensive ballpoints to premium fountain pens is a big leap. It's a choice that makes you think long and hard.
"How do I refill the ink? Is a fountain pen suitable for taking notes?"
Because chances are- you're going to love your fountain pen journey and not want to pick up a 50-cent ballpoint in the foreseeable future.
Before that, find out the things that make the best EDC fountain pen from here!
Material & Quality
Did you know that the very first fountain pens had barrels made out of hard rubber?
Manufacturers have now introduced plastic and steel barrels. But you can find them in wood, silver, gold, crushed velvet, and even bone!
Durability
Modern fountain pens are made of metal, and they last a lifetime if you take care of them properly. We can swear by a LAMY Safari for its durable steel nib and plastic body. Brassy pens will discolor over time without affecting how well they write.
Size of Pen
There isn't a serious size difference between a ballpoint and a fountain. Other than looks and weight, both of them share similarities in size. Then again, there are short ink pens that fit inside your palm.
Vintage fountain pens are usually wider with intricate engravings and a beautiful, brassy surface. It's safe to start with a regular-sized pen before you try short ink pens.
Nib Size
Fine, medium, and bold- are the three options for choosing a suitable nib size. Writing with a fine pen can bring out the curves of each letter and make them look aesthetically pleasing as a whole. A bold nib is cool for dropping your signature. 
Weight
Fountain pens are great for taking quick notes, elaborate dictations, and writing letters and reports.
Compared to ballpoint pens, these don't require extra arm pressure for transferring ink to paper.
But the weight of your EDC fountain pen can easily offset this advantage and give you a hard time writing.
We like a well-balanced fountain pen like the LAMY Safari or Pilot 91113 from their Metropolitan collection. They feel substantial and write effortlessly for hours.
Choice of Paper
Quality of paper is a must for letters and archive-worthy documents.
We prefer a 120gsm A4 paper for our notebooks and pads. Midori and Rhodia paper almost single-handedly rule the fountain pen paper world.
A paper with blends of cotton and wood pulp can give your writing a shiny flair!
Frequently Asked Questions
How Convenient Is It To Choose An EDC Fountain Pen?
Fountain pens are 100% refillable with different color inks. You might also be able to change the nib size from fine to medium, from medium to broad. So, yes, you can choose a fountain pen for everyday use.
Are Retractable Fountain Pens Any Good?
Retractable fountain pens give you that ballpoint feel. They won't leak through your pockets. Additionally, pens with retractable nibs are safer to carry during travels. We love the PILOT Vanishing Point 60581 for its unique nib design and deep, pigmented ink.
What Type Of Ink Do You Use For An EDC Fountain Pen?
EDC fountain pens use disposable ink cartridges for writing. Some pens let you use a converter or a piston reservoir. For an EDC pen, having both options is preferable. The Pelikan 994004 has a built-in piston-filling mechanism so that you can skip the converter.
What Is A Good Paper For Fountain Pens?
Anything below 90gsm paper can show leaking and feathering effects. It can smudge your handwriting for an important occasion. A 100gsm or 120gsm A4 paper is a great writing paper for fountain pens.
Is It Possible To Change The Nib Size On My Fountain Pen?
Since you can replace your old nib with a new one, it's very much possible to go one size up or one size down. All you have to do is twist the old nib out, and screw in the new nib.
Final Words
Depending on your budget, there are a number of fountain pens you can give a whirl. But it's not every day you find an attractive pen that feels exceptional and writes smoothly.
Personally, PILOT 60581, with its matte black barrel and retractable 18K gold nib, did it for us. With the best EDC fountain pen, you can enjoy a pleasurable writing experience every time!