The best ties for men are the ones that allow a man to add a touch of elegance and class to his look. A man's wardrobe should be clean and crisp, where the accessories should also enhance his look and play a supporting role. The perfect compliment to a stylish outfit is a tie and knowing the right tie for your outfit is important.
Because it's not just a piece of cloth but also a remark of novelty.
Now, what are the best ties for men?
In today's article, we have compiled 20 men's neckties in different categories.
Some of them are suitable in the workplace; some of them are for parties, weddings, social gatherings, and brunches.
In addition to them, you get high-quality men's ties for all-purpose use. Let's glance over them one by one.
What Is the Current Style for Men's Ties?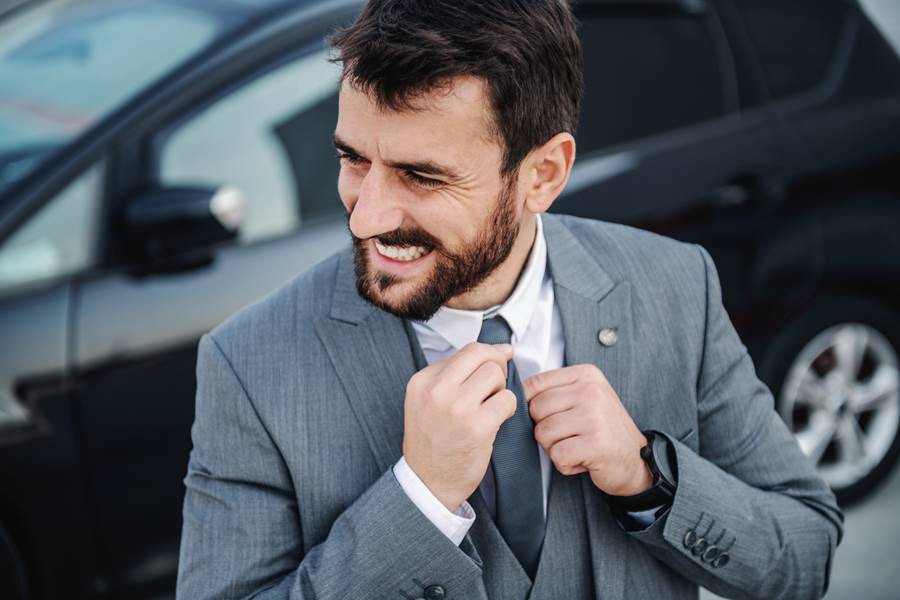 Fashion was always cyclic, and it will always be.
Henceforth, the basic office ties that you used to wear for a conservative office environment can still stand out if it's properly fashioned.
So, what is the current style for men's ties exactly as the trend keeps transforming rapidly?
How do we keep up with the term "current" when it comes to men's neckties?
Let's have a thorough walk over these points.
Stick to the Trend
To stay trendy, you can either stick to one style and keep on improvising it differently, or you can try every single trend which emerges on your timeline. In easy words, if you want to stay up to date, always jump on the bandwagon.
Focus on Your Personality and the Occasion
Now, the most important fact is how you will look wearing this tie? Does it match your personality or the occasion? If the style easily blends with your aura and graces your appearance in a platform, then surely it is your go-to current style.
Find the Accurate Width Ratio
Here, let's talk about the measurements, which is a very crucial factor when it comes to fashionable ties. Do you remember the skinny ties we used to wear back then? If yes, how many of you pulled it off perfectly and looked good? We are sure not all men look appealing wearing a super skinny or super thick necktie.
Thus, the myth of having your perfect match is to measuring the width and acknowledging the accurate width for your body type. Typically, 3 ¼ inches is the standard width of neckties, although it solely depends on the person who is wearing it. Hence, make sure to decipher the perfect width for your neckties so that your stylish tie stand out in the crowd.
Buy Neckties Always Trending
Always keep a tie that is fluid and goes with every occasion and stays on-trend no matter what. We call it a timeless tie that remains ever-green. Secondly, ensure buying a floral or printed tie for a special occasion. Because this one trend never goes out of style.
And lastly, if you have a huge collection of vintage neckties, then pair it up with a traditional fit so that it looks aesthetic.
So the point there's no particular tie can be labeled as "current" style as it keeps fluctuating. The only way to stay stylish is to find the perfect match for your fit.
Are 3, 4-Inch Ties Too Wide?
A tie that is wider than 3 inches is wide. So, if you are referring to a tie that is 4 inches or more than 3 inches, then it's a wide tie, but not precisely. How so?
Because wider guys require wider neckties.
If you have a wide torso, you will need a tie of more than 3 inches or 4. But when you are skinny, then wearing a tie between 1.5-2.5 inches is ideal.
Hence, there's surely a standard width of neckties, but you aren't bound to stick with the perimeter if that doesn't work for you. Wondering if there's any rule of thumb or not?
Well, there is. Always choose a necktie that has more or less the same width as your jacket's lapel. Anything that is wider than 3.7 inches is going to look off-putting. Stick to the perfect size depending on your torso measurement and outfit.
Who Should Wear Skinny Ties?
In easy words, men who have narrow torsos should wear skinny ties. The reason is very practical. Imagine a skinny guy wearing a wide tie, how does it look? Weird! Right?
Not only weird, but also the elegance of your outfit also goes downhill. Skinny guys with wider ties will look bigger than the men who have ideal girth. Thus, men with small chests should choose slim ties ranging from 2.25" to 2.75" inches.
20 Best Men's Ties Ideas In 2022
Here we have curated a fine list of premium men ties. After a long researching event, we have deduced the top 20 picks for you.
Keeping the sensitivity of various occasions and the environment in mind, we have enlisted different ties from numerous categories. We believe that you'll find the ideal deal for you. Let's wade through the reviews one by one.
1. Premium Men's Gift Tie Set Silky Necktie Pocket Squares Tie Clips Cufflinks For Men
When it comes to the best silk ties for men, nothing compares to the premium men's gift tie set. The brand TAVATO offers a magnificently assorted box where you will find three different neckties, 4 tie clips, and 4 cufflinks. Each necktie has a simple striped pattern and the same color scheme.
The color of the ties is followed like a transition from light to deep. Besides, these top quality ties have the standard width range of 3 60" inches.
Thus, anyone with a significant girth can pair them up with everyday formal and tuxedos. On the flip hand, when your shirt has French cuffs adding any of these four cufflinks will come into play.
Furthermore, TAVATO includes a pocket-handkerchief that perfectly blends with your suit and obtains a sophisticated look. The non-fading colors, durability, and stable stitching all speak for quality.
No wonder, TAVATO men's tie package is made of premium polyester that guarantees sturdy manufacture, vivid colors, and incomparable competency. Hence, even after multiple washes, the color doesn't fade away, so you can pair it up with your everyday formal style.
This is one of the best ties for men you will ever come across. They have 3 more styles to meet your various fashion needs. Pick yours or get one for the man you cherish.
2. Weishang Lot 12 PCS Classic Men's Tie Silk Necktie Woven JACQUARD Neck Ties
Are you on the lookout for authentic silk neckties? Well, your search has come to an end.
Presenting, Weishang 12 pcs classic men's tie for all the alpha men out there. This package includes 12 different color neckties that blend in effortlessly with your outfit. Be it everyday formal or occasional tuxedo.
The vibrant colors of each tie are complimented with a different pattern. Some of them are checkered, some are plaided, and some have tiny polka dots. When you wave your fingers across these ties, you will instantly feel the luxury quality as it feels gentle against your palm.
Now, about the width accuracy, it has a 3.1″ tie width, which also happens to be the ideal measurement. However, if you have a narrow chest, then it might not look good on you.
Yet as the appropriate girth for skinny men is 2.25″ to 2.75″, it's not a radical difference. If you wear a slightly wide fit, then it may fit you as well. These classic ties are one of the most quintessential representations of professional neckties.
Lastly, it has water-resistant properties so that it can withstand machine and hand wash both. Make sure to have a look at this package and the exciting price before it stocks out!
3. HISDERN Lot 3 PCS Classic Men's Silk Tie Set Necktie & Pocket Square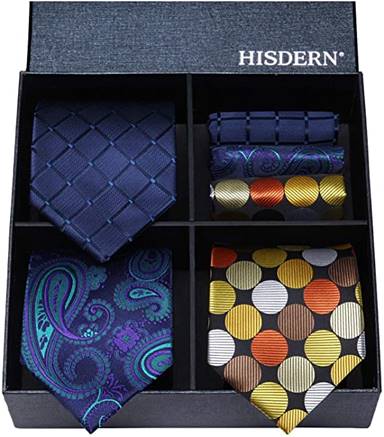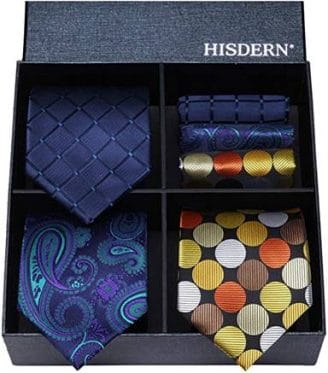 Till now, we have reviewed men's neckties for formal outfits, but how about a deluxe pack with fancy designs?
Well, here we have HISDERN 3 pcs classic men's silk tie, which incorporates diverse color combinations and signature patterns. In addition to the neckties, you will get one matching handkerchief made with 100% silk material.
Thus, not only can you style them with your everyday formal outfit but also business, wedding, parties, and even on your special dates.
These neckties are relatively heavier because of the quality interlinking and high-quality stitches.
Not to mention, each tie has an immaculate texture that immediately conveys a sense of royalty.
Usually, when you try to make a knot in your tie, it feels a little flimsy, or the grip doesn't feel secured.
But when you have these ties, the thick and heavy weighted texture ensures a stable knot without any unfastening.
To conclude, these ties have 3.4 inches in width that makes them perfect for men with standard chest size as well as guys with a wide torso.
4. Jeatonge Lot 6 Pcs Mens Ties and 3 Free Tie Clips
If you are tired of your same old formal neckties, then visit the Jeatonge store to witness an array of premium men's tie collections.
This package includes 6 pcs neckties with 3 free tie clips. Each tie is made with a blend of polyester and silk that ensures elasticity and softness at the same time.
Those who are deprived of stylish men's ties should get their hands on these jacquard neckties for various occasions.
For instance, you can pair them up in formal, prom, wedding, church, parties, and even in your business events.
Moreover, these cool ties for men have an excellent color selection and seamless patterns.
Be it a royal blue color with plain texture or a classic black with a checkered pattern. You get 6 different colors with 6 different patterns to match the standard of any occasion.
Furthermore, anyone who has a wide torso (3.1" inches width) or a standard body fit can team them up with their everyday formal or office outfits. We suggest wearing them with the complimentary neck clips as it intensifies the exquisiteness and novelty of these best-looking ties.
5. Massi Morino – Men Tie Set (incl. handkerchief + cufflinks + tie pin) Italian Style Ties for Men
These popular men's ties are the true depiction of extraordinary workmanship. They offer a wide range of color varieties with different patterns.
We prefer the premium color for its sheen and compatibility with any dress code. The pattern of the black necktie is flat and smooth, like a very basic everyday tie.
However, there are other colors with white dotted, stripped, squared, and checkered patterns as well. You can choose any of them according to your preference.
Now speaking of the neckties, they also include a gentlemen's scarf, cuff links, and silver tie clip.
You will have an in-depth step by step instruction on making a perfect tie knot and styling it with the cufflinks, scarf, and tie clip. Gladly Massi Morino distributes one of the coolest ties that are made of 100% polyester. Hence, this necktie is built to last.
Moreover, it has a standard width of 3.1 inches that represents a businesslike aura in your important meetings and parties.
6. DAZI Men's Skinny Tie Floral Print Cotton Necktie
DAZI offers one of the best affordable ties for weddings, groomsmen, dances, and many special occasions.
These are basically floral printed ties that go along with your basic white shirt perfectly.
However, they can be teamed up with other colors and outfits as well. For instance, if you want to style your tuxedo or your blazer with a floral necktie, then you can. There's no restriction at all.
But as they are cotton prints and carry an array of light colors, wearing them with a plain white or black shirt will be appropriate. Because the floral pattern gives off a flattering illusion against a bright silhouette.
Gladly, Dazi has a bunch of color and pattern varieties from which you can choose your desired ones. They are 58 inches long and 2.5 inches wide.
The width manifests that these ties are specifically for skinny men. So, if you have a wide torso, then it's a big no-no for you. Otherwise, these 100% cotton neckties are good to go for any special occasion, and needless to say, floral prints never go out of trend.
7. Josh Bach Men's Constitution of United States Silk Necktie
Josh Bach men's tie is good news to all the American citizens who treasure their country more than anything and want to wear a patriotic emblem with their everyday suit.
This necktie is made in the USA with authentic silk material. The overall tie is upholstered with the constitution of the United States in a unique wearable design.
It doesn't even look like an intricate design, or the seriousness of the tie is rather hard to depict. When you wear it with a formal outfit, it just blends in. Now about the measurement of this tie, the length is 57.5″ and the width of this tie is 3 1/8 inches.
Note that the width of this tie is precisely for men with a significant girth or wider torso. Hence, if you are skinny or have a narrow torso, then it might not be the ideal tie for you.
It has two color choosing options as a maroon red and a deep blue one. Fun fact, these men's silk ties come in a cool tin jar.
Those who want to pay respect to their forefather or ancestors by carrying a patriotic statement in a wearable accessory should definitely include this in the closet.
8. Marvel Comics Plaid Men's Tie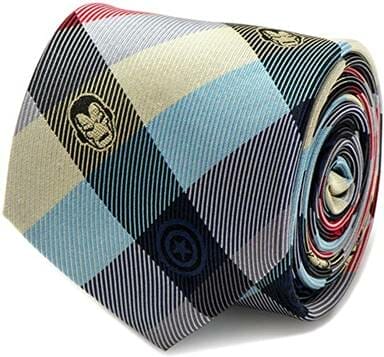 These are possibly the coolest ties you will ever come across if you are a Marvel head. Any Marvel fan who has a huge collection of Marvel collectibles and different souvenirs would love to wear a tie with the plaid comic pattern.
This necktie is solely for the comic lunatics who comically craves something professional.
Here, you will get Iron Man, Spider-Man, Captain America, and other Marvel characters, which are infused on these ties in a very fashionable technique. They are approximately 59 inches in length and 3 inches in width. Consequently, it's decent for small and wide chest both.
However, if you have a comparably wider torso, then it might not work for you. Speaking of these, the measurements of these neckties are made of 100% silk material, and they are officially licensed by Marvel as well.
9. Mens Zipper Ties, 14PCS Segarty Neckties for Men, Silky Zip Up Ties, Men's Pretied Ties Set
Isn't it exhausting when you try making a perfect tie knot but end up failing?
Honestly, we all have been there and wished for a ready-made tie that can be paired up instantly without any hassle. Well, maybe your visions have turned into reality.
The Segarty store presents men's zipper ties that eliminate the troublesome tying sessions. Not to mention they save up your time from this labor and keeps you onboard no matter what.
Each zipper tie is tethered with a premade knot and adjustable loop so that you can wear it over your neck and unzip it whenever you want. Just unfasten the neck strap, loosen up, align it properly, zip it up, and you are good to go.
These neckties come in numerous colors and striped patterns. There are some plain patterns as well, like the royal blue and the signature black one.
Each package consists of 14 pieces of novelty ties.
Make sure you know that these ties are solely made for skinny men as it has the width of 2.8 inches only. However, men with a wide torso can wear it, but it might give off a sophisticated look.
We think these trendy men's ties are built to last as they are made of imported polyester yarn. Lastly, the affordability, premium quality, and effortless styling technique make it one of the best ties for men.
10. 100% Silk Extra Long Premium Tie for Big and Tall Men – Solid Color Mens Necktie
As the name suggests, these neckties are made with 100% silk and follow a solid color. No wonder none of the ties have any pattern like plaided, checkered, dotted, etc. These are just neat and flat neckties with one solid color. They offer a full spectrum of 20 different colors.
All these solid colors exhibit a shimmery look that feels very satisfying at one glance. This is the specialty of solid silk ties that, when you cast your eyes on them, it instantly delivers a soft and shiny look.
Moreover, these ties have two different size availability as for tall and extra tall men, they have 63 inches and 70 inches, respectively.
The length is deviant from most of the traditional ties. For instance, these ties are 5 inches extra long than traditional ties and 12 inches long from regular neckties.
And about the width, these tall ties are 3.75 inches wide, perfect for standard girth and wide torso. Besides, the build is 100% premium silk that also stands for sustainability, sturdiness, smoothness, and quality.
Hence, if you are looking for a long tie in solid colors for your wedding or any special occasion, then these can surely appease your demands.
11. Adulove Men's Necktie Classic Silk Tie Woven Jacquard Neck Ties 6/9 / 12 PCS
Adulove presents one of the best designer ties with 26 color variations. These are made with premium silk material, and the stitching and thread stability is quite impressive.
Men who have significant girth can style these neckties with their everyday formal to occasional outfits. The stylish patterns and sleek design is utterly compatible with bright and dark colored shirts.
Each package is curated with 6/9/12 pcs high-quality neckties at a very competitive price.
If you work in a corporate office and you have to attend meetings or give presentations frequently, then purchasing these classic silk woven jacquard neckties will be a smart choice.
Eventually, you don't have to repeat wearing the same tie in your formal meetings as well as informal occasions. These are possibly the best ties for young men.
12. Tommy Hilfiger Men's Core Neat II Tie
Tommy Hilfiger provides high-quality men's ties that blend with any outfit effortlessly. They are made with 100% premium silk. Hence, quality and softness are guaranteed.
However, while cleaning silk ties, make sure to dry-clean them. No detergent or harmful adhesive should be used. They offer 8 different colors with similar diamond dotted patterns.
The design isn't necessarily polka dots, but it looks like one of them. Moreover, the pattern looks immaculate, neat, and polished—no scratch or crinkles.
We have chosen the light blue color where a tiny dotted pattern is upholstered seamlessly. The ties have a signature contrast tail that makes them look proper with your everyday wear. For men with a wide torso (3 1/8 inches) and standard girth, this Core Neat tie is perfect.
13. Star Wars Men's Millennium Falcon Tie
This men's necktie is a theme-based styling accessory made for a certain audience. For instance, if you are immersed in the world of Star Wars and want the blueprint plastered on your necktie, then voila! This is the one for you.
It has six color availabilities such as black, blue, royal blue, moss, red, and teal. You can choose your preferred color, but the design remains the same as the Millennium Falcon.
They are made of 100% polyester, which makes them stretchy, breathable, and long-lasting. About the closure, it doesn't come with any pretied knot. It's the same old tie closure with 3 1/8 inches width and 57 inches length. Anyone having a standard or wide girth can wear these themed neckties to epitomize your craze for Star Wars.
14. ZENXUS Skinny Cotton Ties for Men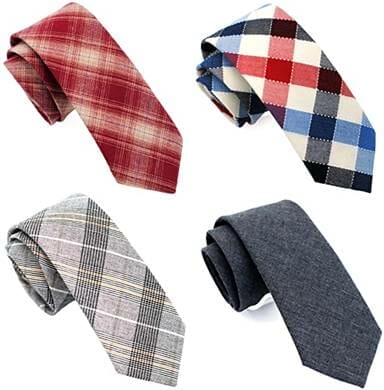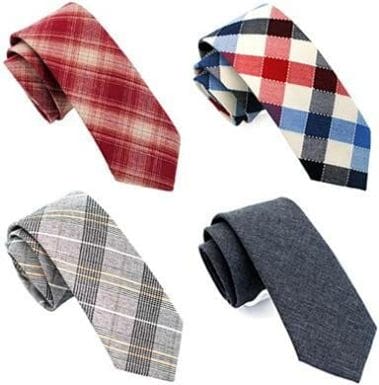 We have ZENXUS skinny cotton ties for men, which come in a package of 4 different patterned neckties. It's a multi-purpose package for those who long for floral, dotted, plaided, stripped, checkered, and other patterns' availability in one store.
In each pack, they include 4 different color neckties with a distinct design. The purpose of this package is to deliver you a fine assortment of neckties for formal and informal occasions.
Moreover, each tie is handmade to ensure quality and authenticity. As these ties are strategically crafted for slim men, anyone with a bigger chest should avoid wearing them.
To be more precise, the width of these neckties is 2 1/2″ inches, and the length is approximately 58 inches long. The length is perfect for taller men, but the width doesn't fit for men with a wider torso.
Thus, if you are looking for a quality necktie package that is suitable for various occasions and adorned with vividly printed colors, then you should definitely grab this package.
15. Calvin Klein Men's Black Tie

There's no chance that you never heard of CK or Calvin Klein. This brand has a huge fanbase because of its undergarments, accessories, perfumes, and other collections.
Everything they make is beyond perfection, just like their neckties. Hence, it happens to be one of the best tie brands with two sizes and 6 color availabilities. You will have the extra-long and the regular size. However, the width of these neckties is 3 inches.
Now, black is their signature color profile on which different patterns like stripe, windowpane, check, dot, gingham, etc., are printed. These neckties are made of high-quality silk as other materials don't convey the soft and polished outlook.
Make sure to dry clean them only. Any sort of adhesive or chemical wash will distort the color.
As these ties bear a very good quality and are manufactured by the famous brand, the price is high for one single tie, whereas you get a bundle at the same wage.
16. Buttoned Down Men's Standard Classic Silk 3″ Necktie
Amazon brands quality silk neckties for men with standard girth. They have two size choosing options from regular to extra long. The width is 3 inches wide, which also happens to be the ideal width size for men with standard chest size. However, if you are too skinny, it might not fit you well.
On the flip hand, 3 inches width isn't suitable for men with wider torsos as well. You can pair them up with your everyday business attire and dry clean them when convenient.
With the premium build of 100% silk, this distributes a plush, silky, and smooth texture. Also, the luster of each color is extremely eye-catching. Make sure to check all the colors and patterns to find out the ideal pick for you.
17. Stacy Adams Men's Solid Woven Formal Stripe Tie Set
Perhaps you are aware of Stacy Adams shoe company that was a top-tier company back in the 80s. But slowly, they expanded their business, and now they cover everything from head to toe.
And one of their most inexpensive product is men's neckties.
Stacy Adams distributes all-season men's neckties that are made with 100% polyester.
This necktie is not as soft as silk, but the stretch and durability are very impressive. Just make sure to dry-wash them, and you are good to go. Stacy Adams features a formal stripe design that never goes out of style.
There are a variety of colors available from which you can choose your preferred one.
We like the navy blue striped one as it harmonizes any formal or informal outfit like a pro. You will also get a coordinating pocket square to grace the look and give off a gentlemen's vibe. These neckties are just novelty ties; hence, if you are planning to wear them for something big or fancy, then it might satisfy you.
And about the sizes, Stacy Adams offers only one size, but they have a legacy of over 100 years to provide the perfect fit for you.
18. HISDERN Paisley Tie for Men Handkerchief Woven Classic Floral Men's Necktie & Pocket Square Set
Do you know what makes your presence significant? Well, a designer tie paired up with a classic tuxedo can do the job. HISDERN offers paisley tie for men with a complementary handkerchief and pocket square. They have an array of color and design availabilities.
These are not just any normal design. The craft is entirely handmade by potential artisans, and no wonder each tie is beyond perfection. A perfect mixture of aqua green and brown printed on a soft and reach cloth makes it ideal for Christmas, birthday parties, weddings, bachelorette, reunions, etc.
The material used in this tie is woven microfiber, which happens to be one of the most quintessential fabrics after silk. Moreover, the brown paisley against the turquoise background looks extremely pleasing.
With 3.4 inches in width and 59 inches in length, these men's luxury ties become suitable for men with a bigger torso. Besides, it's easy to tie a perfect knot when you have the best ties for men.
19. DiBanGu Plaid Tie Men's Silk Tie and Pocket Square Cufflinks Tie Clip Set Wedding Business
Now, we have a DiBanGu plaid tie for men that includes woven pocket square, cufflinks, silver tie clip, and a proper gift box. There are approximately 41 pattern options in different colors.
We recommend the solid black one with the zig-zag pattern. The drifted lines on the black background have the same color profile; however, it feels like raw threads when you stroke your hand over it. This is one of the best wedding ties for men.
Now about the size, it is 59 inches in length and 3.35 inches in width; ideal for men with a wide chest.
Here, the difference between any ordinary black ties and this one revolves around the classic neat pattern on the solid profile. Wear it with tuxedos or any type of formal-informal outfit, and everyone will feel inclined to praise you.
20. Wang Silk Tie and Pocket Square Set for Men Paisley Necktie Cufflinks Set
Lastly, we have a silk paisley necktie cufflink set for men that includes 1 silk paisley tie, 1 pocket square, and 1 pair of cufflinks. This is a complete set for styling up your formal look.
However, they arrive in different patterns and vibrant colors. Some of them are floral printed, some of them are paisley, and some of them are striped or checkered. We think that the floral and paisley ones might not look appropriate in an office environment like a stripped one does.
But for wedding receptions or other special occasions, floral prints and vibrant colors work great. These neckties are 59 inches in length and 3.35 inches in width. A perfect fit for men with a bigger chest. It's definitely not for skinny men or narrow torsos.
Although the length is standard and proportionate, the specialty of the handkerchief confides in the stitches.
The tie and the hanky set is made of 1200 stitches jacquard woven silk microfiber to ensure softness and durability. We chose the color Z-clapsn-1161, which has deep lavender paisley printed on a light lavender background. It looks very chic with darker outfits.
Facts to Consider Before Buying a Men's Tie
Before shopping for the best ties for men, you have to consider these facts.
Occasion
It's really important to consider the occasion when you are buying a men's tie. Even the reason why there are plenty of neckties is that they are strategically crafted for individual purposes.
Something can look appropriate in an office environment and might not work out for a wedding ceremony.
Hence, make sure you know the occasion or the purpose of buying the tie in the first place. If you are shopping for a wedding, choose something vibrant. You can prefer designer ties with different color patterns as well. On the contrary, when you are searching for ties for a business meeting, keep it as basic as possible.
Materials ­– What Materials Should You Consider?
The second most crucial thing while shopping for the best neckties is to check the materials. Because it depicts a lot about product quality.
Let's wade through some materials that you should take into account.
Well, silk is one of the best materials when it comes to premium men's ties. The reason is very simple. Silk material is relatively durable, and the soft and plush surface withstands dirt and awful smell effectively.
Also, when you make anything out of silk, it doesn't tear or cause any wrinkles. Moreover, washing silk fabric is utterly easy as it dries super quickly.
This material works best in winters. They constitute naturally high-performance fabrics that remain gentle on your skin and body. Also, water-resistance and robustness are extraordinary. Woolen neckties are quite expensive as they are usually thicker and provides a better structure.
Knitted ties are not extraordinary, but they are ideal for less than formal and casual settings. For instance, button-down shirts or blazers can be paired with knitted ties. And trust us, it looks quite fascinating.
Size – What Size Tie Should You Get?
Sometimes it feels very exhausting to find the right tie size for your outfit. But it shouldn't be that troublesome, there are mainly three available sizes worldwide; standard, skinny and wide. Let's see which size you are.
The standard size is between 2.75 and 3.25 inches. If you have a standard chest size, then anything around this width measurement will fit you. Or you can say if your chest size is between 38–40 inches, then you have the standard girth, and a tie between 2.75 and 3.25 inches will work for you.
Then comes skinny, which refers to men who have extremely thin body structure. A narrow torso can also be considered. If you have a narrow or small chest, then wearing a tie between 2.25" to 2.75" will do the job.
This is for men who have a wider chest. Now, if you have a wide torso, you can also wear the standard size ties if that looks suitable with the outfit. If you prefer a 4 inches wide tie for you, then probably your chest is wider than average. And if that's the case, you should just follow the rule of thumb: wider the torso, wider the tie.
Knot Style
There are various knot styles depending on different occasions and outfits. Check out these 3 for a precise insight. Choose your tie depending on the knot you can make with the neckties.
This knot style is one of the most simple ones that go very well for a casual and relaxed atmosphere.
The Windsor or full Windsor knot styles depicts a lot about your personality. It reflects how organized and serious you are in every aspect of your life. Hence, it's ideal for special occasions, presentations, important meetings, etc.
This knot style is for taller men and is considered to be more formal. You can make these knots when you are preparing for a job interview or in a business meeting.
Quality
Undeniably quality is a very important factor when shopping for men's neckties. Make sure to inspect the material to evaluate the quality.
If the tie is made of silk, wool, polyester, knit, or microfibre elements, then surely it has premium quality. Also, when you are shopping online, ensure checking up on the brand and its policies.
Color – What Color Ties Should You Pick?
Depending on the outfit you are about to style up with the tie, you should select the color. If your shirt is white, then any solid color or patterned necktie will do just fine.
On the other hand, when you are wearing a darker color as the background for the tie, you should pick a light color.
The rule is to choose two different color contrast. If you are wearing a dark shade, then the other shade has to be light. Or if you are wearing a deep brown shirt, you can prefer wearing a light chestnut brown tie. Same color but different shades.
Personality
You should always wear a necktie that represents your personality. Habitually neckties symbolize respect, discipline, and novelty. Also, men's ties yield professionalism that hooks everyone's attention. Hence, while looking for the ideal necktie, make sure it has enough attributes to exhibit your persona.
Price
Last but one of the crucial fact when shopping for best looking ties is to consider the price. You might have a strict budget or a flexible one. In both aspects, you can have a suitable tie for you.
If you are looking for affordable neckties, then you should stick to the necktie packages that come with a solid color necktie, handkerchief, and cufflinks. But if you don't have any budget barrier, then you are open to exploring.
However, the fairness of the price can be assessed by comparing it with the product material, brand, and quality.
Use your instinct, reason with them; if you think the price is fair, then you know what to do. In contrast, if the price is too high for a necktie in your perception, then skip it.
Cotton Ties vs Silk
Let's see which one is better between cotton ties vs silk.
| | |
| --- | --- |
| Cotton | Silk |
| Cotton often crinkles | Silk is resistant to crinkle and tear |
| Cotton is affected by moisture | Silk doesn't get affected by moisture; instead, it withstands extreme pressure |
| Cotton ties are best for casual settings and a warmer climate | Silk is best for formal and informal occasions; works ideally both in winter and summer |
| Cotton is extremely light thus comfortable to wear | Silk is relatively heavy |
Both are rich in quality, but in terms of tenacity, elasticity, and smoothness, silk ties always reign over cotton.
Final Thoughts
To be honest, it's hard to choose one when the options are many. But as long as you are determined about your needs, you can find your ideal pick.
We have curated this list with different neckties and put them in distinct categories.
First, consider the occasion, then stick to your preferred material, check the size, think about the budget and outfit, and eventually, when everything falls into place, get the suitable one for you among these best ties for men.
Others Type of Ties you may Like
Best Selling Men's Tie