We don't know what type of tie rack you're using, but it certainly isn't the best tie rack if it can't hold more than 15 ties in it. Some tie racks are designed in such a way, you need to go to a specific angle to get access to it. What's worse, the ties usually slip away from it.
We're reviewing the top 10 tie racks that will blow your mind. Durability, user-friendly design, and an amazing capacity, our tie racks have got everything here. So, sit tight and read the reviews to take your pick.
Best Men's Affordable Tie Racks
Picking out a tie isn't as difficult. You know what's your style and what looks good on you. Pairing a fancy tie with the outfit is easier than picking out a storage solution for them. That's why we rounded the top 10 tie racks for you to check out.
1. Tenby Living 2-Pack Rack
If you want a no-nonsense tie rack that's practical and does its job well, this is the one to get.
You can hold up to 20 ties in a convenient and space-saving design. There are 10 hooks on each side of the rack for you to tuck your tie in. To make sure the ties don't go anywhere, Tenby thoughtfully put clips.
This prevents the ties from slipping and creating a mess. Another cool feature is the rotating hanger hook. You can access it from any angle.
Say goodbye to fiddling with the hanger once and for all. The material it's made of is ABS plastic, and it comes in glossy black color. This is, of course, a hanging tie rack for those of you who are wondering.
2. Umo Lorenzo Wooden Necktie and Belt Hanger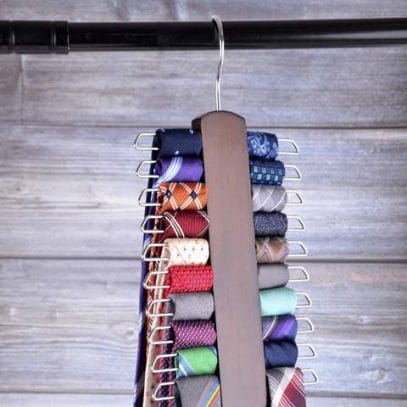 Do you know what's more premium than plastic? Well, wood, of course. And that's exactly what this one from Umo Lorenzo is.
Give your closet a facelift and a touch of organization with this necktie and belt hanger. It will neatly hold 20 items that are all kept securely in place. From the name, you probably have guessed it doesn't only just a tie holder.
In fact, you can use it to store scarves, ties, and belts. Just like our previous one, you can easily access any of the items you want without the need to fiddle with it.
The design is also pretty solid. It has to be one of the better wood tie racks you can buy right now. Made from high-quality dark oak wood, the finish is pristine and premium.
3. Aniva Motorized Tie Rack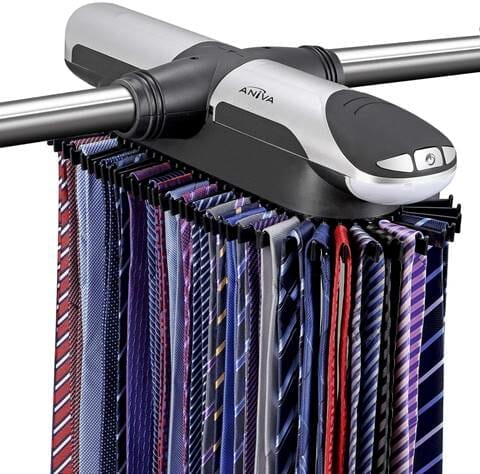 Normal tie racks are fine for the most part. But what if you want something a bit fancier? Maybe a motorized tie rack?
As far as motorized tie racks go, this one from Aniva is probably the best motorized tie rack you can buy. With just a touch of a button, the mechanism will rotate in either direction, displaying your prized tie collection.
Picking out a tie in the dark? Don't worry; there is a LED light to help you with that. The installation is super easy and, in the package, you will even get a special screw to help mount it. The batteries are not included, though. You will need 4C batteries to run this thing, and it's made from plastic.
4. iDesign Axis Metal Hanger
So far, we have seen plastic hangers and wooden hangers. Now, it's time to switch it up a bit and look at this high-quality metal hanger.
It's made from stainless steel with a very shiny finish. If you're into the chrome look, this is one hanger you will love. Plus, the materials will also make sure it lasts long too.
There are 7 hooks on each side. You get both curved and straight hooks to store all kinds of ties, belts, scarfs, handbags, and more. Basically, any accessory or garment pieces like ties you need hanging can be hanged on this one.
To top it all off, the installation is pretty easy. No tools are required, just place the hanger with the hook in your closet.
5. Ohuhu Tie Rack
If 20 clips aren't enough for you, this Ohuhu tie rack will surely impress with its 24 clips. The design is a bit dated, though.
Let's talk about that design first, then. It's not that bad, but we feel like it's very plain and simple. However, that won't be too much of a problem. It's still made from high-quality wood.
As we mentioned before, it has 24 rust-proof hooks. So, not only can you organize your ties and belts, they won't get ruined either. The clips also make sure your garment stays put in place.
6. ClosetMaid 8051 – Wall Mounted Tie Rack
If the design of the previous Ohuhu was a bit dated, this takes a complete 360 in the design department. You get proper functionality along with a nice design as well, so you don't have to worry about anything.
This is a great tie rack for the closet. The design is minimal, with lots of hooks to neatly organize your ties and belts. You can mount it on the door or the wall. And, of course, the installation hardware comes included with it.
There are lots of hooks with a rubber coating that will keep your garment safe. It's made from epoxy steel.
7. 2 Pack IPOW Twirl Tie Rack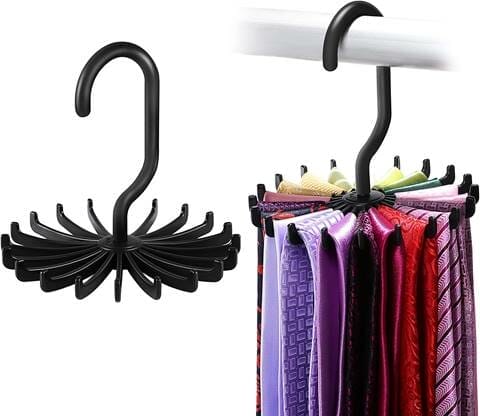 If you want more fun and unconventional design, this twirl tie rack will check all the boxes. It's playful but also very practical.
The unique twirl design makes it quite fun to use and will light up any closet. There is practically no installation needed. All you need to do is hook it in place, and voila!
Multiple plastic arms will keep your ties and belts in place without creating a mess in your closet. The arms are anti-slip, too, and it twirls 360-degrees for easy access all around.
What's even better? This is a 2-pack tie rack. That's great value for how good this product is.
8. BigOtters 4 PCS 360
Take the previous and just add two more racks with it, and you basically get the BigOtters 360.
It has the same high-quality plastic build with a playful design that can hold up to 20 ties and belts. The arms are non-slip as well. We are getting quite fond of rotating designs like these.
They're unique and also look quite fun. If you want to spruce up a closet, this is one of the easier and quicker ways. Plus, you also get the benefits of being able to hang your ties neatly as well.
On top of that, you get 4 pieces of it instead of 2.
9. DIOMMELL 2 PCS Belts Rack
Back to more traditional tie racks now. This DIOMMELL will give you secure tie clips in an easy-to-use and durable plastic build.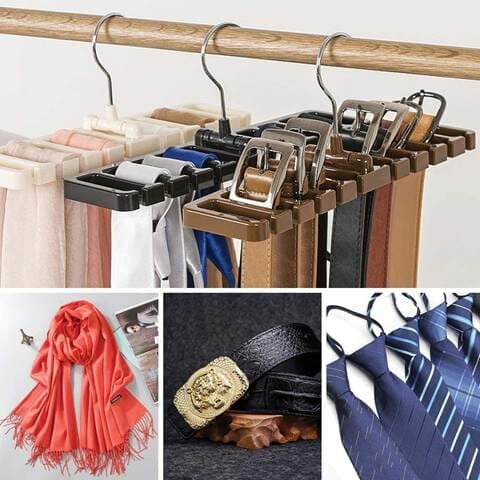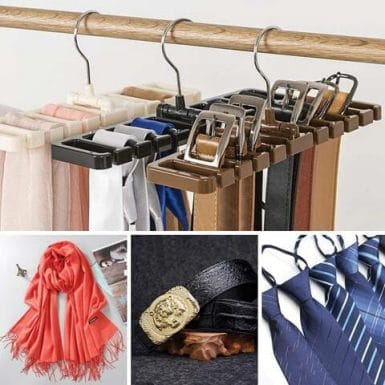 There are two pieces in the package. So, that means you get plenty of hooks to store all you need. The anti-slip arms will hold whatever you put in its place. Belts and ties, all are fair game.
The build is plastic. But that shouldn't put you off. It's pretty durable and will last for a long time. The material is polystyrene with a smooth finish.
Installing the rack is a piece of cake as well. Just hook it in place, and you're all good to go.
10. SunTrade Wooden Tie Hanger
The keen-eyed among you will notice this one is quite similar to one of the previous hangers on the list. Fortunately, it is comparable in the feature department.
It will hold 24 pieces of ties or belts, thanks to its polished stainless steel swivel hooks. They are not only durable, but they are also pretty cool looking too.
The top base is made from hardwood. It's high-quality and looks super-premium. There is also rust resistance which will make sure your ties are safe and sound.
Easily organize your closet and also get some style while you're at it.
Facts to Consider Before Buying Best Tie Rack for Men
Before you settle on any of the racks we mentioned in this review, you need to know what factors to look for. That way, you will know which one will work for you and will also help you make a more informed choice.
Automated vs. Fixed
Whether you want to get an automated or fixed tie rack will depend on how fancy you want to get. While fixed tie racks are perfectly fine, automated ones have more pizzazz.
They will come with a motor that can turn both directions beautifully, displaying your tie collection.
Fixed ones are very straightforward, and also, they may last long since there are no moving parts.
Material
The material is very important too. Tie racks are mostly made from either stainless steel, wood, or plastic. All three are good materials. But if you want a premium touch, wood is great.
Stainless steel is good too, and plastic ones are cheaper but get the job done just as well as the others. Whichever type you go with, make sure the build quality is good and that it's durable.
Number of Hooks and Hangers
The number of hooks is a crucial factor. This will essentially dictate how many ties or belts you can hang on it at a given time. Needless to say, the more, the better. But it also will come down to how many ties you have and do you have space for a larger rack with lots of hooks.
Hanger-based vs. Wall-mounted
Here, we have the two form factors. While both hanger-based and wall-mounted ones are good, we tend to prefer the wall-mounted solution a bit more. They are more secure and will stay put in place.
Compared to hanging tie racks, they do have a more involved installation process, though. Mounted racks are also a more permanent solution. So, you need to plan well where you mount the thing.
Hanging tie racks are easier to install and can be placed somewhere else easily. There really isn't a clear winner here. Both have pros and cons. It all depends on which kind do you like and do you want a more permanent setup or a more flexible one.
Pull-out Function
Pull out function will essentially dictate how easy it is to access the ties from the rack. Can you seamlessly pick a tie and pull it out with ease? Having to fiddle with your tie rack and pull it out can be quite an annoying experience.
So, make sure the tie rack you get makes it easy for you to pull out ties, belts, scarves, or whatever you may have on them.
FAQs on Men's Tie Rack
How Do you Use a Tie Rack?
This is pretty simple. All tie racks will have hooks on them. All you need to do is just hang your tie or belt on them, and you're done. When you need to take one out, pick the one from your collection and pull it out.
It's easy and just works. Plus, you can also get a good view of all the ties and belts you have at a glance which makes it easier to choose one.
Hanging your tie is much better than rolling them. This is because hanging the ties will make sure they stay pristine and new for longer, and you also avoid wrinkles.
If you want to look sharp, pairing a nice wrinkle-free tie to finish up your outfit is a sure-fire way to make it work.
Do I Keep My Ties from Wrinkling?
Let's make one thing clear; you should never iron your ties to get rid of the wrinkles. A lot of people don't know this, and their first instinct is to iron their ties when they see wrinkles on them.
Ironing will damage the fabric. What you should do instead is get a good quality handheld steamer. Gently steam out the wrinkles while your tie is hanging, and it should do the job.
When you need to store it, make sure to hang it on a tie rack and not roll it up.
Glad you asked this question. Well, investing in a tie rack is the easiest and most effective way to organize your ties. Not only your ties, though, but you can also make your whole closet cleaner and well kept. Choose whichever style you want to go with, and you will immediately see a difference.
Wrapping Up!
Got your hands on the best tie rack? We bet you have. While we want you to look at the number of ties it holds, always remember that the built-quality and design matter the most. We recommend everyone to take the ones that have got this rotating hanger for an easy user-experience.
Read Also