For a man, this is the time of his life when professional success is all about looking sharp, keeping up with trends, keeping up with the times and always making a great impression. A man doesn't need to be a corporate tycoon or a celebrity to look great. With the right office cologne, a man can feel like the most successful man in the room.
If you want a great cologne that will keep your colleagues intrigued and will get you noticed—then you need to give the idea of breaking the fragrance barrier a new perspective. That is why in today's article, we are presenting to you the best office cologne for men.
Colognes meant for daily use should not be too exotic. Its purpose is to keep you smelling nice & fresh all day long and energize you to be productive. Keep reading to find a few excellent perfumes for this job.
9 Best Office Colognes
Not sure if you should use cologne at the workplace? You definitely should! The right product can boost your confidence as well as appearance. Here are a few of our favorites –
1. Hugo Boss BOTTLED Eau de Toilette
Key Smell Notes:
Hugo Boss is a luxury brand that originates from the same country where men's cologne was first made. Yes, it's German! Though they started off by selling clothes (and they still do), perfumes are what this brand is really known for.
The Boss Bottled from Hugo Boss comes in a clean, elegant, and minimalistic design. You can already tell that it is an everyday perfume just by looking at the bottle.
This perfume starts off a fruity affair with notes of Plum, Apple, Lemon, Bergamot, Geranium, and Oakmoss. And this blend of scents gives it a fruity, fresh smell upon application.
Once the top notes evaporate a bit, you will start getting the woodier scents such as Mahogany, Cinnamon, and Carnation.
As the top notes totally evaporate, you will get the base notes, which are all wood scents such as Sandalwood, Cedar, Olive tree, and Vetiver.
One major mistake people make when wearing cologne is going overboard. Remember, strong perfumes may smell good to you, but they might cause nausea and headache to those around you.
This perfume is very faint and light, making it an ideal choice for crowded work environments. You will smell good to your colleagues, while not causing a headache to anyone.
The subtle yet masculine scent makes this the best formal cologne for any office man.
2. Montblanc Individuel Eau de Toilette
Key Smell Notes:
At the second spot, we have yet another German luxury company. But this one is not known for its scents. They are more popular for their premium quality pens, watches, and accessories.
Individual by Montblanc is a cologne for the younger crowd. It is an Oriental Woody scent that hits you with Pineapple, Berries, Mint, Lavender, Cinnamon, Cardamom, and Coriander the moment you spritz it on.
As the top notes dissipate, you are welcomed by some fresh floral notes such as Orange Blossom, Jasmine, Violet, and Geranium.
It then settles on a sweet but unmistakably masculine aroma of Raspberry, Musk, Vanilla, Amber, Dark Chocolate, Vetiver, Patchouli, and Oakmoss.
It smells robust yet sweet, while not being too heavy or overpoweringly dense. It would pair nicely with an elegantly tailored suit. This is truly the best office fragrance.
You cannot go wrong with this one in any workplace or professional environment, because it is luscious enough to get your compliments and soothing enough to build a sense of trust with your clients.
Spending an arm and a leg for something you use every day does not make much sense. That is where this perfume shines, too. It is affordable enough for a perfume created by a luxury brand.
3. Yves Saint Laurent L'Homme Eau De Toilette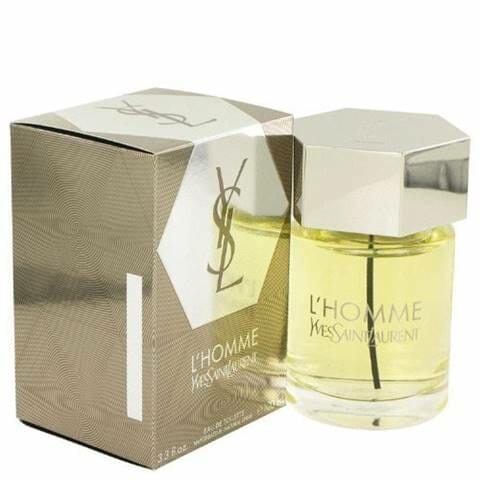 Key Smell Notes:
We have a French company at the 3rd spot. France is often associated with fashion, elegance, and all things stylish. And this brand has a reputation for coming up with iconic fashion items. They make great perfumes, too.
Whenever a perfume is described as masculine, more often than not, it is very strong. That might not be everyone's cup of tea. It is not the most work-appropriate, either.
This is what's unique about this product. It is a very masculine, Woody Floral Musk perfume, but it also manages to be very subtle and clean smelling. This makes it perfect for the workplace.
Because it is so subtle, you can wear this all year round in every season. So, you will not have to get another one when winter arrives.
You will get fresh notes of Lemon, Ginger, and Bergamot upon spraying. A while after it will get spicier, with notes of White Pepper, Basil, Spices, and Violet Leaf.
Finally, it will settle as a nice musky scent with notes of Cedar, Tahitian Vetiver, and Tonka Bean.
The subtle yet masculine scent, year-round wearability, and crisp clean smell definitely make this the best men's office cologne. However, do not get this if you are more into fresh and floral notes.
Also Read: Best Sandalwood Perfume​​​
4. Prada L'Homme For Men Eau De Toilette
Key Smell Notes:
Up next, we have an Italian fashion house known for cutting-edge style and fashion. Prada specializes in shoes, handbags, ready-to-wear garments, travel accessories, perfumes, and other accessories.
The Prada L'Homme is Prada's flagship perfume that offers the user a designer experience. If you are into powdery, soapy, and creamy smells, you will undoubtedly love this one.
As for the fragrance, this is a Woody Chypre perfume. It is rather new compared to the other colognes till now, being launched in 2016.
Being a relatively new perfume, the Prada L'Homme combines classic Prada ingredients – Iris & Amber.
Upon application, you will be welcomed by Cardamon, Black Pepper, Neroli, and Carrot Seeds. Then, the middle notes of Iris, Geranium, Violet, and Mate will shine through.
As the cologne settles into your skin, it will release scents of Cedar, Amber, Sandalwood, and Patchouli.
This perfume is seriously long-lasting. Just a few spritzes are enough, and it will last long after your office hours are over. Prada describes this cologne as characterizing reserved, airy, & challenging.
It is the perfect spring scent, although suitable for summer as well.
Rest assured, as the best cologne for work, the Prada L'Homme will earn you the respect and trust of clients and colleagues.
5. Bleu De Chanel for Men Eau De Toilette
Key Smell Notes:
Chanel is another French fashion house we are mentioning today. It is a name anyone into clothes, fashion, and beauty recognizes.
The Bleu De Chanel by them is not only one of the best office perfumes for men, but also a popular choice for casual and special use alike. It is something that will match any occasion effortlessly.
This product is not the most affordable one on our list. But you will be getting a luxury experience from it for sure. The design of the bottle itself is exclusive. And the lid has a magnet that helps it snap back into place as you put it back.
So, it is a wow factor that sets this perfume apart from the rest. As for the smell, it is characterized as Woody Aromatic.
The initial scents include Lemon, Grapefruit, Pink Pepper, and Mint. So, you get some freshness as soon as you apply it.
Also, the middle notes are where it gets spicy, with Nutmeg, Ginger, Iso E Super, and Jasmine. It settles into a woody aroma of Vetiver, Incense, Sandalwood, Labdanum, White Must, Cedar, and Patchouli.
This mix of fresh and woody will leave you feeling stylish, sharp, and smart, ready for the workday.
As a plus, it will last nicely throughout the entire day, and some more.
6. Terre D'Hermes Perfum for Men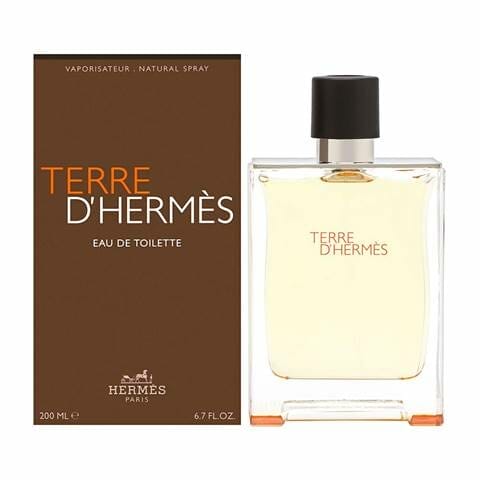 Key Smell Notes:
As the country of fashion, France obviously has many luxury high fashion brands. Hermès is another such French brand featured in our list. This brand is known for leather goods, perfumes, accessories, clothes, and more.
This fragrance is a rather mature one, so men of all ages can wear it. It is the perfect mix of woody, citrus, and fresh spice, characterized as being Woody Spicy.
Some people call it 'Autumn in a bottle,' and it is easy to guess why. The moment it hits your skin, you will start picturing shades of browns, oranges, and plum – classic fall hues.
As is the case with most perfumes with fruity notes, you will get the fresh hit of Grapefruit and Orange at first. Then it will get spicy, with mid notes of Pelargonium & Pepper.
After it has some time to react with your skin and body chemistry, it will settle into base notes of Cedar, Benzoin, Vetiver, and Patchouli.
Take care not to overapply this particular perfume, because it can smell strong and off-putting if overapplied.
When applied correctly with the right amount, it is definitely something that gives off the vibe of a trustworthy, self-respecting professional. You will feel powerful and professional when wearing it in a formal setting.
7. Christian Dior Sauvage For Men Eau De Toilette
Key Smell Notes:
Citrus
Aromatic
Fresh Spicy
As far as French fashion designers go, Christian Dior is someone who has managed to gain a lot of fame and fortune.
The brand Christian Dior, named after the designer himself, is one of the most prominent luxury fashion brands in the world.
They are mostly known for women's clothes, shoes, and other offerings, but they do have a Dior Men line as well. The Sauvage is a part of that line, and it is a classic perfume for men.
If you look up articles on men's perfume such as this one, more often than not, this one will come up. Perhaps this popularity came from the poster boy of this cologne, Johnny Depp.
Nevertheless, you must admit that this perfume is a mix of raw masculinity with a splash of fresh sweetness. It is characterized as an Aromatic Fougere perfume.
In this timeless perfume, the initial scents that will attract you are of Pepper and Calabrian Bergamot.
But the spicy Pepper smell does not end there. As the middle notes, you will get Pink Pepper, Sichuan Pepper, Vetiver, Lavender, Geranium, Patchouli, and Elemi.
It ends with a hint of Cedar, Ambroxan, And Labdanum. Though we are talking about the office today, truly, this fragrance is suitable for every occasion.
This perfume provides a subtle zest that will give you an authoritative, polished, & elegant vibe. Who would not want that in a workplace?
8. Versace Pour Homme Eau De Toilette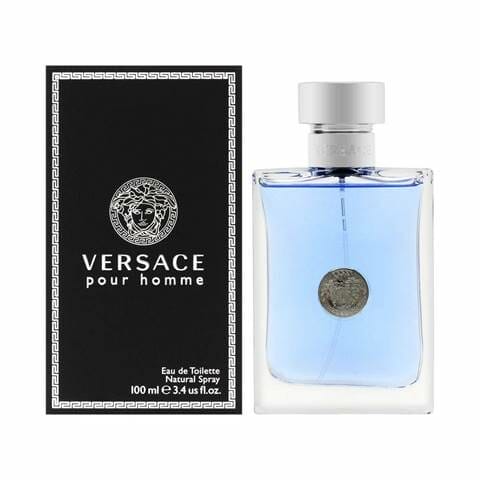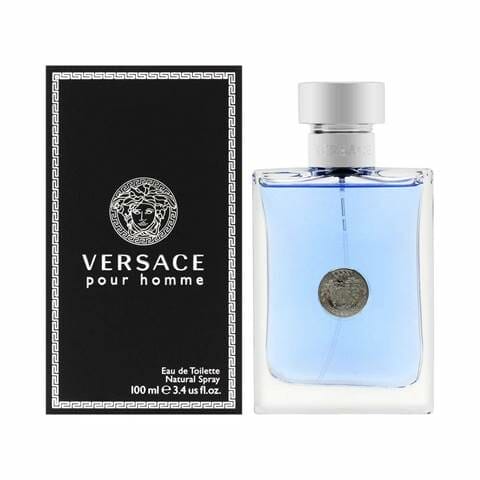 Key Smell Notes:
Citrus
Aromatic
Fresh Spicy
We are finally taking a break from France and focusing on Italian luxury brands for the best office cologne. Versace, like all the other perfume brands we have talked about, specializes in making high-fashion clothes and leather goods.
But their fragrances are no less popular. In fact, whenever the topic of perfumes comes up, Versace is a name you will most definitely hear.
The Versace Pour Homme is a very uplifting same, smelling very fresh and crisp. When it comes to men's perfumes, some people do not enjoy the woody and musky notes that can be found so often in them.
If you are one of those people, then this perfume is a nice option for you. It is very fresh and citrusy, a foolproof scent anyone would enjoy.
As you spritz this on, for the welcoming scent, you will get notes of Lemon, Bergamot, Neroli, and Rose de Mai. Then, the mid notes will follow – Cedar, Hyacinth, Geranium, and Clary Sage.
Finally, you will be left with an aromatic base of Amber, Musk, and Tonka Bean.
Delicate yet muscular, this perfume will give you a clean, elegant, and professional vibe. It will also uplift you and make you ready for the day, and keep you smelling fresh all day long – no matter how sweaty the day might be.
9. Valentino Uomo Intense for Men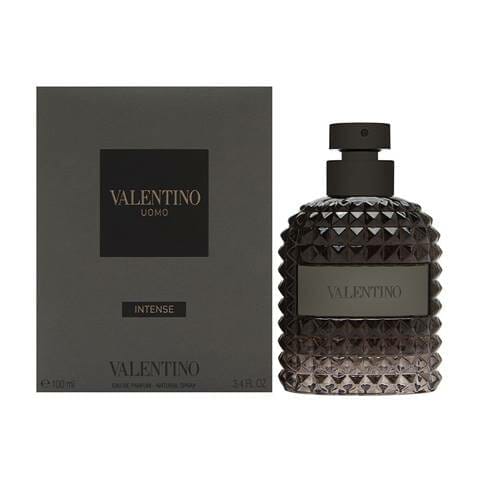 Key Smell Notes:
We are wrapping up our list with another Italian luxury brand founded in 1960. It is a boutique known for shoes, bags, perfumes, and clothes.
The Valentino Uomo Intense is also a relatively new perfume, hitting the market in 2016. In terms of popularity, it is not as popular as all of the other colognes listed here. But it is, by no means, a bad perfume.
If you are into leather scents, this would be ideal for you. It is very creamy and smooth, with just the right amount of leather.
Many people compare it to Dior Homme in terms of scents. While there are similarities, they are still different perfumes so do not get it as a substitute. If you like the Dior, you will certainly like this too.
The top notes of this cologne are Clary Sage & Mandarin Orange. Then, the earthy scents of Tonka Bean and Iris show through. It finally settles into a base of Leather and Vanilla.
This mixture of Vanilla and Leather is an excellent choice, as this perfume manages to smell both masculine yet amazingly creamy. It is like a deep growl, that turns into a purr.
It is ideal for night outs. If you choose to wear it at work, do so sparingly because it can get too much real fast.
How to Pick the Best Cologne for Work
Silage
What is silage, you might be wondering? Well, have you ever walked past someone and were hit by a gust of perfume a few seconds later? That is what's called silage. This is a French word. You can also call it projection, in English.
Silage refers to how close or far away people need to be from you to be able to smell your cologne. In an office, the silage of your cologne should be low to medium. Everyone does not need to smell your scent as soon as you enter a room.
But, if you are working in a wide space area or outdoors, you will get more room to express your smell. Usually, though, most of us work in confined climate control offices with coworkers nearby. So, choose a subtle fragrance that will not be noticeable unless someone is near you.
Longevity
How long a perfume lasts depends on the concentration of essential oils in them. True perfumes last the longest, while Eau de Toilette lasts around 4-5 hours.
Most of us work longer hours than 4-5, so you have to choose between a perfume that will last throughout the day or having to reapply your cologne.
Choose the best office cologne based on whether you have the chance to easily refresh yourself and reapply at work or not.
Also, do not make the mistake of spritzing too much Eau de Toilette in the morning to make it last longer. It will still fade away at the 4–5-hour mark, and you will be left smelling too strong and overwhelming.
Season and Fragrance Family
People's sense of smell changes with the weather. Usually, in summer, the sense of smell is better, and it works less in winter. So, in winters, you get the chance to wear stronger fragrances.
And in summer, you should opt for fresh, light colognes.
A great way of determining this is by using the fragrance wheel. Amber and Oriental scents are spicy, string, and bold. They are great fits for cold weather, evenings, and romance.
Fresh notes are lighter by contrast, so they are perfect for summer and daytime use. They also make good office colognes.
Woody notes are more versatile between the two. They can work for all of the situations. You can also go the floral route, but it is an acquired taste for men.
And while you are at it, do not forget to also consider the base, middle, and top notes and what they do.
FAQs on Men's Office Cologne
Is It Okay to Wear Cologne at Work?
Yes, as long as you do not wear something too exotic, strong, unorthodox, or sexy, wearing cologne to work is OK. In fact, it is even encouraged to do so, because a clean, fresh and crisp smell can add to your professional attire.
Should I Wear Cologne Every Day at the Office?
Yes. Generic work timings fall between 8 AM to 5 PM, which includes the hottest part of a day. If you work in a crowder office or one with no air conditioning, then you will produce more sweat than usual. Work stress adds to this, too.

Body odor is the biggest turn-off in professional settings. It is also an embarrassment for you, and it damages the professional image of a person.

Therefore, to maintain good hygiene and impress potential clients, you will benefit from wearing appropriate cologne every day at work. Trust me, your chosen perfume has the power to make or break deals – literally!
How do You Define an Office Cologne for Men?
In workplaces, just like the ensemble you wear, the scent that you choose should be appropriate. So, most office scents should be conservative in terms of aroma profile.

This means, office perfumes have less musk and fruity notes, and more woody and aromatic scents. Office colognes are rarely unorthodox, they are conventional scents that are common & respectable.

In terms of fragrance notes, for workplaces, you should go for either citrus or green notes. A citrus note will provide freshness, uplifting the mood; while green notes are Fougere and aromatic, smelling masculine yet elegant.
What Kind of Scents Stimulates the Brain and Increase Productivity?
Fresh, floral, green, and citrus fragrances can stimulate your brain and boost productivity. From these, the notes that have been proven to help include – Lemon, Citrus, Jasmine, Peppermint, Cinnamon, Ginger, Lemongrass, Pine, Lavender, etc.
Final Words
After you find the best office cologne for you, remember to wear it conservatively. Limit the amount to one to two sprays at best. Anything more might be too much, and people working with you all day would not want to be smothered.