Merino is the king of all wools. But getting authentic merino wool socks is not that easy.
And maybe that is why your socks can't seem to last a season where merino sock makers are giving out lifetime warranties for their socks.
Yes, lifetime warranties for socks!
And, you absolutely don't have to spend 20$ a pair to get one from Smartwool. You just have to be smart yourself and find your best match here.
We have gathered the best merino wool socks for both men and women. There are all kinds of socks here with different prices and features.
Give five minutes of your time here to have a sock that will last until you lose it.
What Is Merino Wool Exactly?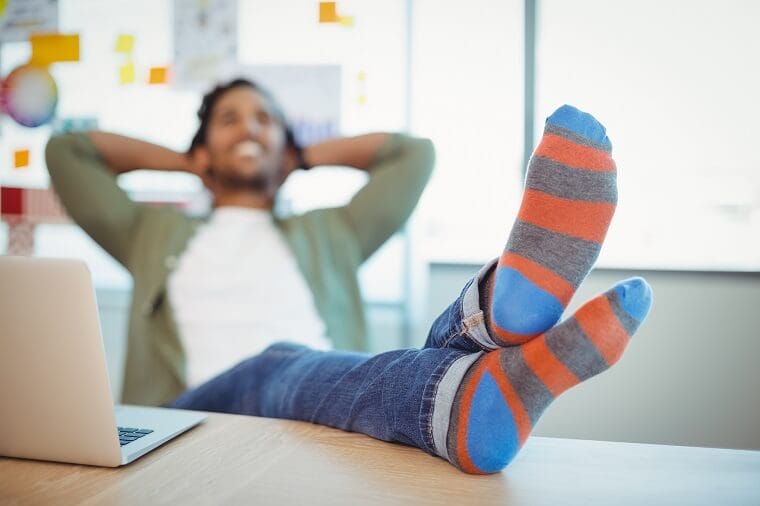 The wool produced by merino sheep is merino wool.
But putting it so simply is nothing more than undermining its legendary status.
This wool is the result of centuries of selective breeding, first in Europe, especially in Spain, and then in Australia, where it got its present form.
It has such unique properties that national military agencies use it to make special clothes. But the main benefits of merino wool are –
A high rate of capillary action/ fast wicking
Thermostatic for a wide range of temperatures
Anti-bacterial properties
Scratch-free wool
It is also better than other wool in the following aspects –
Less wrinkling
Very soft
Odor resistance even after sweating
Machine washable
However, all of these features also make the wool a bit expensive. Another drawback is the increased time of drying it.
Nevertheless, I can't think of any other fabric to spend my money on other than merino wool socks.
15 Best Wool Socks
15 is a big number. But the market is way bigger than this.
Almost all of them are the best in some aspects. The first fifteen are a mix of men's merino wool socks and some unisex merino socks. And the last five are for women.
1. Alvada 80% Merino Wool Socks
Being first doesn't mean that it is the best sock. However, it is undoubtedly the most popular wool sock in America.
You have a very high concentration of wool. And that brings all the good qualities of merino. You have less odor, less itchiness, and more comfort. The fuzzy inner is very soft to your skin.
It can also wick a large amount of moisture, even if you are in high humidity situations. The cushioning also work as reinforcements.
For the price, it might be the best sock on the list.
Pros
Extra thickness keeps feet very warm
A high concentration of superior quality merino wool
Terry loop cushioning
Good grip
Comfortable inner
Cons
2. DANISH ENDURANCE Merino Wool Socks
Danish Endurance is a European company making its socks with European merino wool. Unlike most other brands, they make socks that you can flaunt openly.
But the highlight of this sock is its sweat-wicking capability. They are very popular and are ruling the market for a long time now.
These socks are also experts at regulating any temperature to a comfortable level. They are very tough and will last for a long time.
Pros
Heavy-duty
Ergonomic design
Durable construction
Great customer service
Suitable for outdoors and sports
Cons
Although marketed as unisex, they are too big for women
Very sensitive in the dryer
3. COZIA Wool Socks 80% Merino Wool Socks
These are top-rated men's wool socks for hiking. Cozia primarily made them for winter sports. However, they are used for all kinds of adventures.
The concentration of wool is about 80%. And the rest is dedicated to synthetic fabrics that give it more strength and comfort. The 15% polyester in the mix also helps it to dry quickly.
You can use them outside even in the coldest months. They are perfect socks for hiking boots in the winter. However, summers won't be a problem for them.
Pros
Ankle vents for extra breathability
A fully cushioned footbed
Good arc compression support
Reinforced yarn
Excellent breathability and thermal control
Cons
The outlook is not that good
You have to order a size larger
4. Buttons & Pleats Wool Socks for Men Women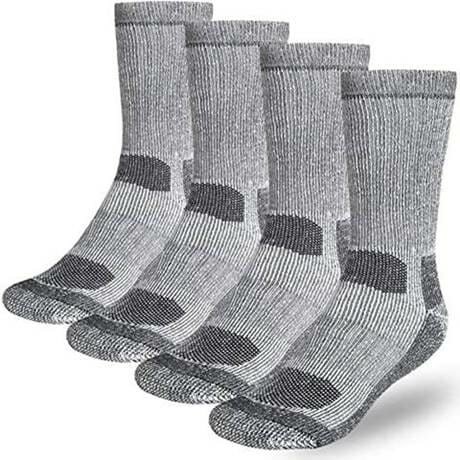 Buttons & Pleats are dedicated to making the best textiles for women. However, we found this unisex merino sock very special.
80% of this product is pure merino wool woven on nylon to give it extra strength. It has reinforcements in the toe and heel.
Merino wool tends to take more time to dry. Hence, they added 15% polyester to the mix to overcome that flaw. The breathability is excellent, thanks to the high concentration of the wool.
Pros
Dries very quickly
No-slip stay up cuff
Best for arch compression
Excellent temperature control
Light on the wallet
Cons
Tiny bit larger than it should be
The reinforcements in the toe and heel are not that good
5. Enerwear 6P Pack Men's Merino Wool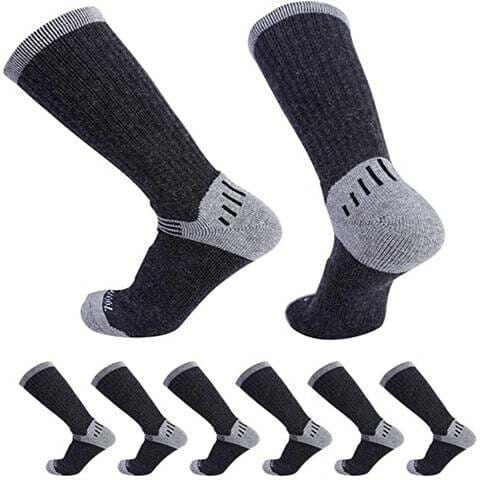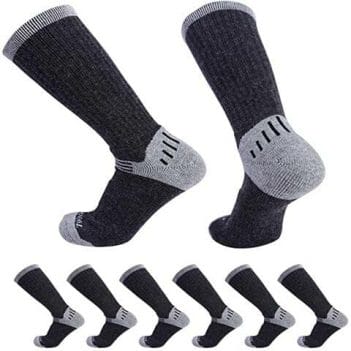 The multinational company, Enerwear, has its roots in Los Angeles. And like most textile, the manufacturing is done by the Chinese to ensure the best value.
In this sock, you have only 25% merino woven on nylon. But most of the fabric in the combination is acrylic.
The nylon base makes it more durable, and the acrylic increases the softness and antimicrobial properties of merino wool. You also have polyester and spandex in the mix.
It is also cushioned with terry loops, which makes the end product very comfortable.
Pros
Seamless toe
Terry loops
Very tough
Suited for sports and outdoor activities
Smooth and comfortable
Cons
The second set of pairs had a slight change of elasticity
6. ONKE Men's Merino Wool Moisture Wicking Thermal Cushion Crew Socks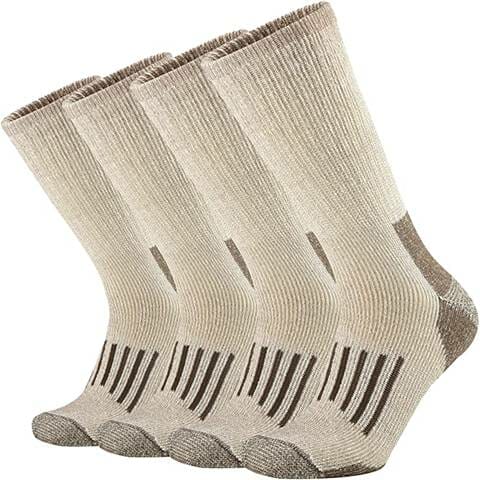 Onke brings its wool straight from Australia. That's why they have the highest quality of wool. They are a perfect mix of breathability and comfort.
It is a blend of acrylic, merino wool, polyester, nylon, and spandex. The sock is very stretchy, and I think it's for the high concentration of spandex.
But we don't think nylon and polyesters are doing a good enough job because there were holes in some pairs after around six months.
It is tough to find 100% merino wool socks, but I think it should go very close to it. Because you have the best moisture control and breathability here. It can also stay in place for a long time.
Pros
Best wicking capability
Good arch support
Very stretchy
The top stays in place for longer
Cons
Heel reinforcements are not thick
7. ThemeDesigner Premium Merino Wool Blend Socks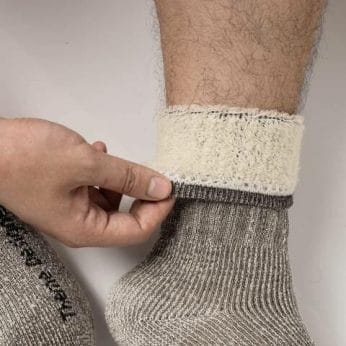 ThemeDesigner is not a very popular brand, and they brought this sock into the market just last year. So, I can't say I have years of experience with it.
However, judging by ThemeDesigner's previous products and the performance to date, it will not be a bad investment.
Although the amount of merino wool is lower than the products before it, 55% is still better than the market's most other offerings.
You can use it in all kinds of weather. And that is proven by the balanced breathability and moisture management of the sock. You can use it for all sorts of sports in the winter and most other times of the year.
Pros
All-weather sock
Good breathability
Pretty durable
Warm and comfortable
Stays in place
Cons
One of the pairs had a tendency to bunch up in the toe
Getting the size correct was a little tough
8. Ballston Lightweight 81% Merino Wool Crew Hiking Socks
Ballston is operating from Virginia to give you the best quality fabrics on US standards. They are one of the few manufacturers that use premium merino wool made in the USA and produce it domestically.
It is, of course, comfortable thanks to the 81% merino. The rest is nylon and spandex, which gives the sock increased structural integrity. They included a special kind of spandex that gives it more grip and elasticity.
You can use it for all kinds of sports, especially as winter hiking socks. The water-wicking capability was very good. You will love it after the first day.
Pros
Minimalistic environment-friendly brand
Good after sale services
Greater concentration of merino wool
Very comfortable
Cons
You might not be able to use the heavy ones in the summer
9. PEOPLE SOCKS Merino Wool Crew Socks
It is another merino manufacturer from the USA. From the sheep to the sock, everything is done domestically here.
The wool is robust, with 21% nylon. Wool is knitted on this nylon, having a high concentration of 71%. You also have polyester and spandex for promoting elasticity and breathability.
You can wash and dry this in the machine. This is one of the best wool socks for winter. The footbed has superior cushioning. And the whole sock is thicker than average.
Pros
The best US-made merino sock
Non-abrasive toe seam
Durable wool socks
Thick and comfortable
Cons
Quite expensive
Some might feel a little bulky
10. DG Hill 3 Pairs 80% Merino Wool Socks
Deal Genius is a Chicago based company finding the best products in the market and offering amazing deals for them since 2004.
If you are looking for cheap wool socks, then this is your best option. I think there is some Chinese magic here.
Despite the small price tag, it is 80% merino wool weaved into 17% nylon. You also have other materials for greater breathability, odor reduction, and elasticity.
It is very soft and stretchy. They are made for extreme cold weather. You can even use them for fishing and other outdoor adventures.
Pros
Heavy-duty construction
Great cushioning
Excellent temperature control
Fit for long-term outdoor use
Good grip
Cons
They shrink a lot, so order a size up
11. Pembrook Merino Wool Sport Socks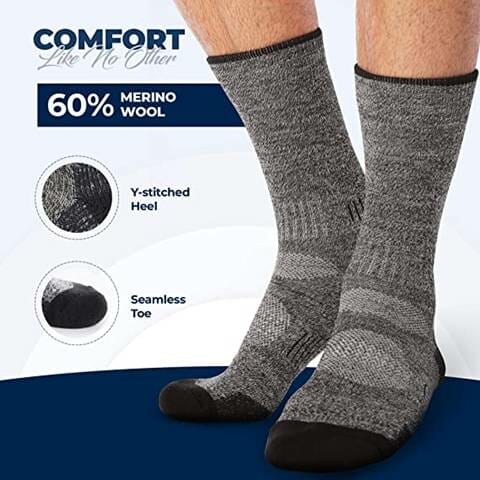 Pembrook Apparel is operating from Ohio since 1976, and socks are a very big part of them. This is a tried and tested product that is around for four years with glory.
It has 60% merino wool. The fabric blend is unique, and that's what makes it special. It is elastic and can hold its place throughout the day without icing your feet. Nylon makes the construction strong as well.
You can use it all year round. Wear it outdoor or at the office; they will keep your feet dry and fresh.
Pros
Machine washable
Good arch support
Technical cushioning
Versatile usage
Cons
The sizing is not consistent
12. ZEALWOOD No Show Socks
No products found.
Zeal Wood is a company that only relies on the best wool from Australia. And their product quality is one of the best in the market.
If you were looking for the best no show merino wool socks for shoes, this is your product. They are designed for athletes but still manage to be in the lower part of the price spectrum.
You can do all kinds of sports, even in summer, because it has excellent wicking capability. This is the best merino wool socks for summer in our list. They are very comfortable. It is neither too thick nor too thin, just perfect. It is undoubtedly one of my favorites.
Pros
Heavy-duty construction
Best for all seasons
Very soft
Good wicking capability
Cons
Piles up in the heel after months of heavy use
13. CloudLine Merino Wool Socks
Cloud Line Apparels specializes in making socks. When I first came across their socks, I thought they were overpromising for the durability.
But when I saw 31% of it is made of nylon, I knew they would live up to their promises. They also used the best quality of merino wool. The 22.5-micron thick wool has a concentration of 63%. This quality and quantity make it extra smooth and soft.
The cushioning and lightness of the fabric endorses the softness better. Using it in the summer, even for a long time, won't be a problem.
Pros
Very soft to the skin
Heavy-duty structure
Dries quickly
Best merino wool socks for summer
Cons
Some pairs have a tendency to fuzz up
14. Farm to Feet Damascus Lightweight Low Merino Wool Socks
Farm to Feet is a new company starting its journey in 2013. It seems to be a very patriotic company keeping all of its supply chain and manufacturing inside the borders of the USA. They are also environmentally conscious and nationally reputed.
However, their wool sock just has 43% of merino wool. Most of it is nylon. This makes it lightweight, exceptionally strong, easy to wash, and dry. However, they are less wicking capable and less stretchy.
Pros
Low-stress seam placement
Targeted cushioning
Comfort compression
Very strong
Good breathability
Cons
Not very popular as a merino wool option
Getting a good fit is hard
15. Darn Tough Merino Wool Boot Sock
Yes, they are so low on the list because of their price. But we couldn't resist the quality they were providing.
If you don't know, they are one of the industry's giants and the third all American company on our list with a reputation for the highest quality in the market.
They are designed and made in Vermont with a concentration of 66% merino and 32% nylon. These two materials give it a perfect combination of strength and comfort. You can use them all day, even in the summer. They regulate heat perfectly.
The socks go up to your mid-calf. And there are no seams in the toe. They are also supported by strong ribs that prevent slipping.
Pros
Well-designed sock
Comfortable and good looking
One of the best backpacking wool socks
Good padding and grip
Cons
Little expensive for the quality
The socks are a little undersized
Facts to Consider Before buying Merino Socks
It's nice to see you pulling your socks up for the next pair.
Hence, we decided to make it easier for you by not focusing on attributes that generally come with merino wool, such as softness, itch-free, breathability, odor repellence, wicking, temperature control, etc.
We will help you to focus more on things that matter.
Merino Wool Concentration
Before getting to other features, I would like to add that the merino wool features described above depend on the concentration of merino wool in the blend.
100% merino is not the best merino wool socks. However, a high concentration will show the general qualities of merino wool more. It will not necessarily increase the price, as we have shown in our review section.
So, try to get a sock with 60%-80% merino wool concentration that is weaved in nylon for greater strength.
Cushioning
Merino is naturally a very soft material without the itchiness of natural wool. Thicker socks will be softer.
You can also look for terry loops. They make the socks very soft. A fuzzy inside also softens the fabric to the skin. Extra cushioning in the toes and hills are necessary.
Thickness
Too thick socks will be bulky and unfit for outdoor. But too thin socks will not be warm enough. Moreover, you don't need a merino wool sock to be too thick because they are natural temperature regulators.
Breathability
Don't confuse breathability with wicking. Breathability refers to the capability of transmitting vapor through the wool where wicking is pulling moisture from the skin and evaporating it in the air through capillary action.
Breathable socks generally have portions where the knitting is a little thinner to let air in. They might also have other methods, but you have to rely on user reviews for that.
Arch Compression
It is essential for people with plantar fasciitis and other arch inflammations. Good arch support from the sock relieves you from fatigue and lets you continue in your expedition, whether it be sports or a typical day at the office. See if the manufacturers or the reviewers mention arch support.
Reinforced Heel
This is the part where you will see the first holes in a sock. So, your hills should be well reinforced with strong base fabrics and multiple layers of that fabric. If the heel is not reinforced, the durability will be heavily compromised.
No-slip Stay Up Cup
Over the calf, wool socks have a tendency to slide down. It happens when the sock loses its elasticity and grip after a few washes. Get socks with ribbed top and strong grip.
Elasticity
Merino wool is not that elastic. So, you need other synthetic material like polyester or spandex that gives the fabric blend a good stretch.
Washing and Drying
Make sure that your sock is machine washable. Dryers can also destroy your socks. So, see if you can use the dryer with the sock.
Spandex, polyester, or other synthetic fabrics in the sock help in quick drying without the machine.
Darn Tough vs. Smartwool – Brand Comparison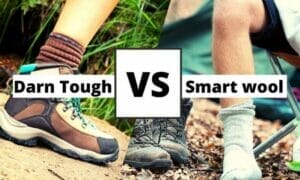 You might be a bit surprised to see only one sock from these two Brands. And that is because these are too expensive. We can have similar quality socks in much cheaper deals.
However, if you are into brand value, you can get them. Both of them give you very high-quality socks. So, you have to know the main differences between Darn Tough vs. Smartwool to get the best one for you.
| | |
| --- | --- |
| Topic | Detail |
| Durability | Both of them are durable, but Darn Tough is thicker and lasts longer. |
| Comfort | Darn Tough has thickness and cushioning going for it, while Smartwool prevents material buildup and provides greater arch support. |
| Wicking Capability | Darn Tough is better at wicking moisture for greater wool concentration. |
| Price | Smartwool is commonly less expensive than Darn Tough. |
| Versatility | Smartwool can be used everywhere all year round, but Darn Tough is generally better in extreme conditions. |
We will advise you to go for Darn Tough.
Frequently Asked Questions
Here are some of the most common questions on this topic –
1. Why is merino wool so popular? What are the specialties about it?
People love it because it can give you warmth and coziness without the typical problems of other wool or synthetic products that are generally used in the winter. Moreover, you can also wear them in different seasons, including summer.
2. Can you wear merino wool socks in the summer?
Wool socks are one of the best socks for warmer weather. Wool can absorb moisture 30% of its weight, and unlike cotton, it keeps it away from the skin. Hence, it cools the foot. Moreover, they are also wilt-free, odor-resistant, and free from any wrinkling.
3. How to take care of merino wool socks?
There isn't much hustle with these socks. They are machine washable. You can use warm water but avoid hot water. Coldwater is the best. Also, avoid bleach and fabric softeners. Tumble drying is not a problem.
4. Which country is producing the top-quality merino wool socks?
The Australian merino is currently the best quality of merino wool in the entire world. For having a similar climate, New Zealand can also give you good quality wool. However, Chinese and American merino is also one of the best.
5. What are the advantages of having a pair of merino wool socks?
The core benefits of these socks are –
No itchiness
Wrinkle-free
Comparably softer
Thermostatic
Wicking capability
Machine washable
Anti-bacterial properties resulting in less odor
Final Words
True merino wool is almost like Vibranium or Adamantium. They are like them not only in the uniqueness of material properties but also in rarity.
Therefore, finding the best merino wool socks is not easy. There are countless counterfeiting brands. So, you must follow someone who knows this stuff better than you do.
Bless your merino socks.
Best Selling Marino Wool Socks